G&M Cosmetics Launch Native Australian range – Naturally Good Expo 2019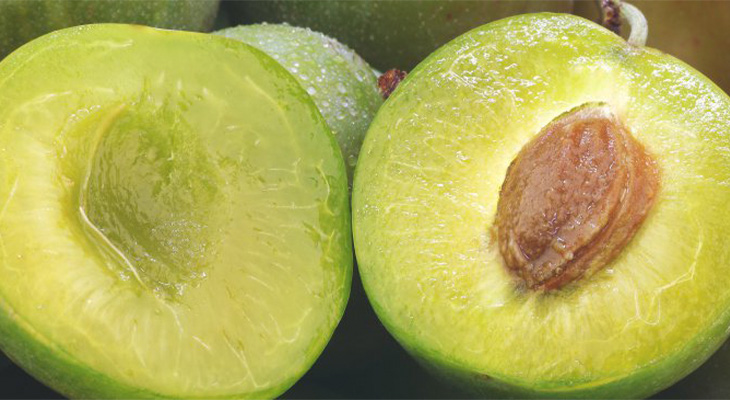 Visiting the Naturally Good Expo 2019? Be sure to visit certified organic skincare brand G&M Cosmetics as they launch their exciting new Native Australian range.
The Native Australian brand is G&M Cosmetics' premium range offering sophisticated, highly concentrated formulations, containing Australia's most effective natural 100% organic oils.
A small but powerful fruit
It's no longer an Aussie secret – the Kakadu Plum is the newest buzzword in cosmetics and there's plenty of reasons why. Traditionally considered a gift of the Dreamtime, the Kakadu Plum has been used in traditional indigenous medicine for centuries. Now, you can experience its incredible skin benefits thanks to Aussie skincare company G&M Cosmetics and their new Native Australian range.
Known as the Kakadu Plum, Billygoat Plum, Gubinge or Murunga, this tiny fruit provided indigenous Australians with anti-inflammatory, antiseptic and much needed nutritional benefits for millennia. Natively grown in Northern Australia and The Kimberleys, the Kakadum Plums were enjoyed as an energy-boosting snack when harvested from March to June, whilst the bark and sap were used for their incredible healing properties during the rest of the year. These medicinal benefits not only aid wound healing, but can be transferred to provide wonders for your skin.
A story of success
Producer of 100% Australian-made skincare, G&M Cosmetics is one of the first companies in Australia to incorporate the amazing Kakadu Plum and other rare indigenous superfood ingredients into their skincare range. Wildcrafted and grown free from human intervention, the Kakadu Plums used in G&M Cosmetics' range are harvested using environmentally friendly methods to protect both the fruit and its pristine natural habitat.
Founded in 1996 by Zvonko Jordanov, G&M Cosmetics has been caring for Australia's skin health for almost 23 years with its natural skincare ranges.
Locally manufactured in Sydney in accordance with the ISO 9001 standard, G&M Cosmetics sources native ingredients from specialised Australian suppliers to produce superior skincare products with gentle effective formulations for both adults and children. In the past 5 years G&M has doubled its manufacturing capacities to meet continual increasing demand and the company is renowned for its affordable, high-quality natural skincare products in Australia and the Asia Pacific.
G&M Cosmetics' Native Australian skincare brand is a luxurious new range offering sophisticated, highly-concentrated formulations featuring 100% natural organic oils and iconic indigenous ingredients, such as Guandong, Finger lime and the iconic Kakadu Plum.
Powerful native Australian ingredients
Think of oranges when you think of Vitamin C? Well, think again! The Kakadu Plum has one of the highest concentrations of Vitamin C of any known fruit in the world, with up to 100 times more Vitamin C than an orange. The concentration of Vitamin C in Kakadu plums can be as high as 3700 mg per 100g (compared with 50 mg/100g for oranges) and is the most stable Vitamin C in nature, meaning it holds its nutrient value for much longer.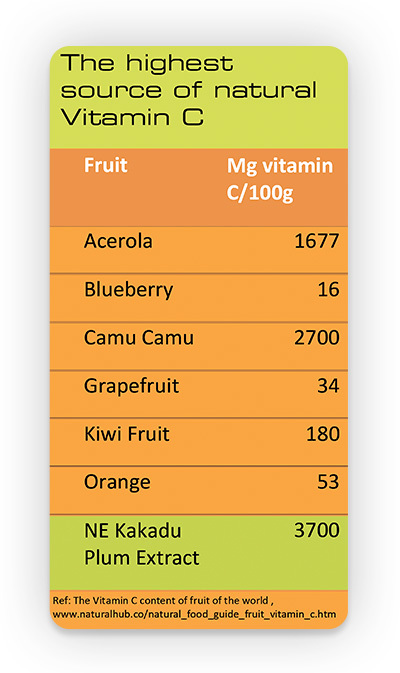 High concentrations of Vitamin C can do wonders for your skin:
Powerful natural antioxidant to fight free radicals,
Reduces wrinkles & improves skin's texture,
Enhances brightness, radiance & luminosity,
Increases collagen synthesis,
Improves elasticity.
By firming the skin, fading dark spots and acne scars, Vitamin C helps to give your skin that awe-worthy glow, whilst also helping to improve the way skin responds to UV light. When used in natural skincare products, Vitamin C also helps to stimulate collagen production to reduce fine lines and wrinkles and provides a natural skin-lightening effect – creating a clearer complexion by fading scars and hyperpigmentation.
Packed full of antioxidants, the Kakadu Plum helps to fight free radicals that damage your skin. Applied topically, antioxidants detoxify the skin and defend against free radical damage caused by environmental factors such as pollution and sun exposure. Grown in some of the most remote areas of Australia, these harsh environmental conditions cause the Kakadu Plums to develop a rare and highly efficient defence mechanism with a diverse range of antioxidants – with up to 5 times more antioxidants than blueberries. Applied directly to skin, the antioxidant-rich Kakadu Plum helps protect your skin against free radicals and therefore helps your skin to stay more supple and youthful for longer.
The Kakadu Plum is naturally antibacterial to balance acne-prone skin. Containing phytochemicals such as gallic acid and ellagic acid, Kakadu Plums have long been sought after for their anti-fungal and antibacterial properties. While gallic acid works to restore the skin's natural barrier, ellagic acid encourages skin elasticity and suppleness. Ideal for acne or breakout-prone skin, the oil extracted from these plums help to balance the complexion and prevent further damage such as acne scarring in the long run.
To add to the incredible benefits above, the Kakadu Plum also helps to soothe skin irritated skin. For those prone to sensitivity, Kakadu plum Oil is deeply soothing and calming. Gallic acid (a natural anti-inflammatory), helps reduce redness, inflammation and irritation – helping to provide a clearer complexion and restore the skin's natural barrier.
It's no wonder Kakadu Plum is so sought after!
The exciting G&M Cosmetics Native Australian range
Kakadu Plum is one of the main active ingredients in the hydrating, smoothing and plumping G&M Cosmetics' Native Australian Kakadu Plum Complex. This rich cream contains a range of supercharged ingredients including Kakadu Plum, Macadamia and Bergamot oils. It's great as a night-time reviver for all skin types, leaving skin feeling more youthful, moisturised and restored.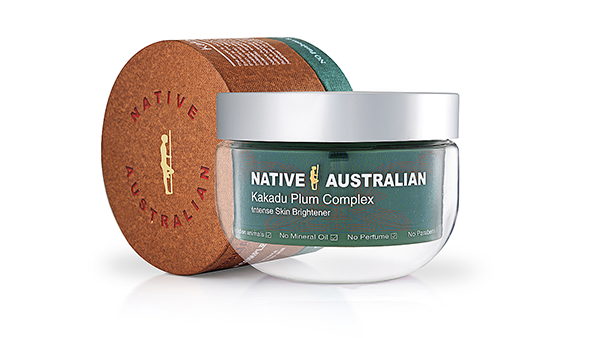 In addition to 100% pure organic oils and creams, the Native Australian innovative range contains lotions which offer lightweight yet highly concentrated formulations.
Both Native Australian creams and lotions are abundant with botanical extracts and free from parabens, mineral oil, artificial fragrances and colours to provide your skin with outstanding results and long-lasting benefits.
The Native Australian ® Lanolin Brightening Lotion is packed with concentrated Vitamin C from Kakadu Plum extract to illuminate and even skin tone, Vitamin B3 and Evergreen Bearberry to lighten skin and natural oils to moisturise the skin.
Another revolutionary G&M product is the Native Australian ® Lanolin Skin Shield Lotion designed to naturally protect the skin from the harsh environmental elements. It contains a unique Guandong fruit extract which aids in the formation of a barrier against environmental damage. The lotion is also enriched with multi-level actives and nourishing extracts including rice bran oil and tomato fruit extract which is known to absorb UV-light and naturally protect against sun radiation.
The Native Australian ® Lanolin Restoration Lotion features native Australian Finger Lime caviar extract to protect the skin from damaging free radicals, Vitamin B3 to increase DNA repair and blackcurrant seed oil and jasmine extract to reduce inflammatory processes, rejuvenate skin and strengthen skin barrier. 
Native Australian products are available in airports, health stores and souvenir and gift stores. G&M Cosmetics' core ranges include Native Australian, Dr.V, Australian Creams and Australian Creams MKII. Learn more here.
In March 2018 the G&M's Australian Creams ® brand was voted the Most Trusted Australian Brand in China, according to Monash University's ABC (Australian Brands in China) Index. All G&M products are not tested on animals. 
G&M are exhibiting at Naturally Good Expo 2019 – Sydney. Visit their stand (Stand B24) during the show to try this new range and chat to the team.
Get your Naturally Good Expo 2019 tickets here.