Kalleske Wines Family Rabbit Pie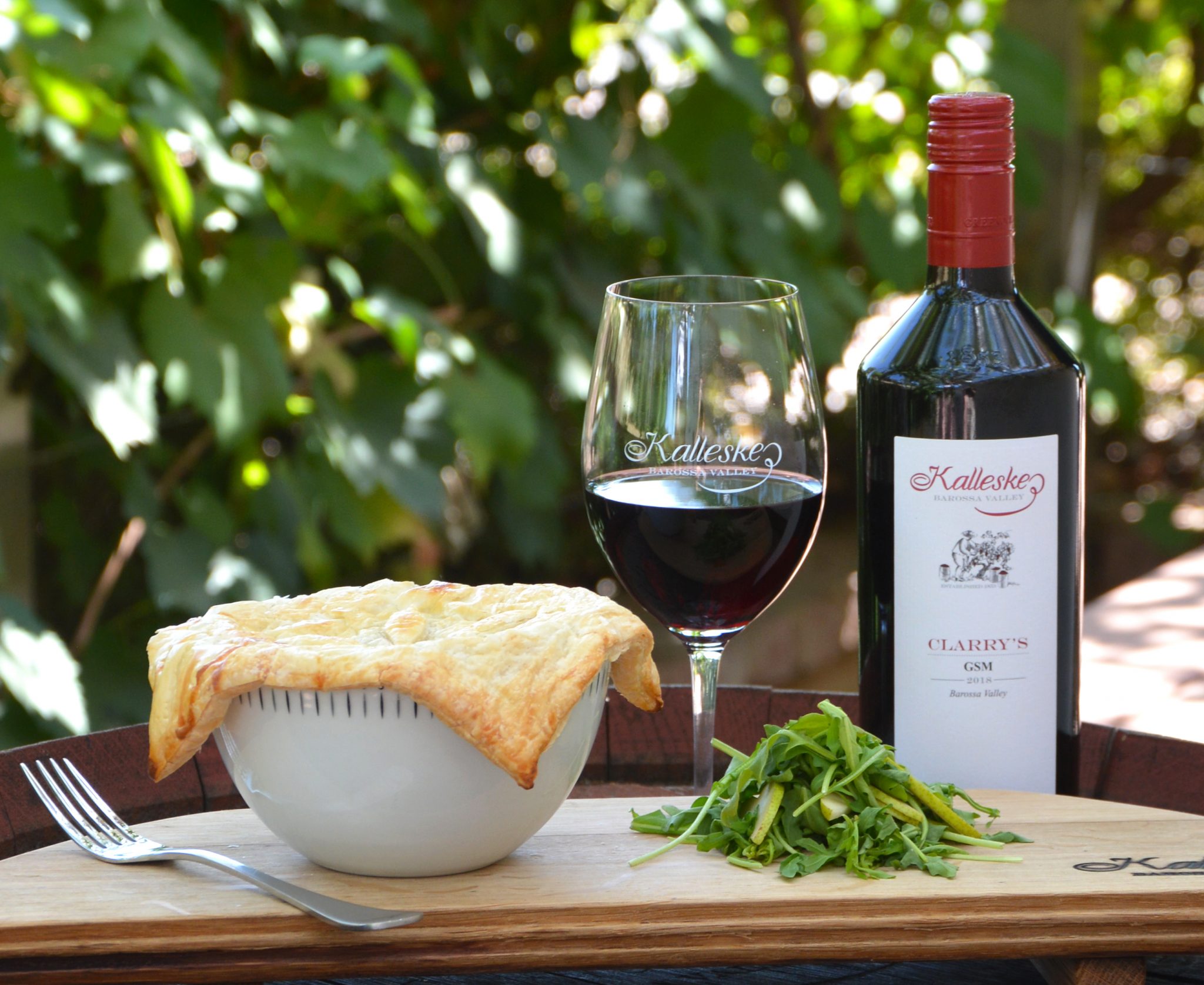 You can't get more homely than a rabbit pie! This delicious recipe includes a dash of award-winning Kalleske Clarry's GSM for added volume and flavour.
The perfect accompaniment to your St. Patrick's Day celebrations!
Ingredients
Filling
1 rabbit, prepared and deboned
1/3 cup Kalleske Clarry's GSM
1 cup of water
2 cups of milk
75g butter
50g smoky bacon
1 sliced onion
3/4 tsp salt & 1/2 tsp pepper
1 clove of garlic, crushed
2 bay leaves
1 carrot, sliced
2 sticks celery, sliced
1 capsicum, sliced
1 bunch chives, chopped
handful of parsley, chopped
5 mushrooms, sliced
3/4 cup of peas
25g plain flour
1 tsp nutmeg
1 crushed chicken stock cube
Crust
3 cups of plain flour
2 tbsp butter
1/2 tsp sugar
pinch of salt
1 tsp bicarbonate soda
2 tsp cream of tartar
1 organic egg
soda water
Method
Place rabbit in a stock pot with water and 1 cup of milk. Add bacon, onion, 25g butter, garlic, bay leaves, salt and pepper. Cook gently for approximately 1 – 1.5 hours or until tender.
Once tender, remove rabbit and strain liquid into a bowl. Keep the stock and set aside.
In a large pan, cook carrot and celery in small amount of the stock until soft. Add capsicum, chives, parsley, mushrooms and peas.
Add remaining butter to pan. Once butter has melted add flour, nutmeg, chicken stock cube and Kalleske Clarry's GSM. Stir and cook for 2 minutes.
Add milk to the stock to make up to 500ml and then add to the pan and combine. Adjust seasoning as required. Add the rabbit to the sauce, combine and place in a deep pie dish.
Top pie with puff pastry or crust. To make crust mix together all crust ingredients and work into a dough by adding soda water to reach an appropriate consistency. Roll out and place over pie dish and brush with egg wash.
Bake in the oven at 180 degrees until crust is golden brown.
Serve with a glass of Kalleske Clarry's GSM and a fresh green salad.
Kalleske Clarry's GSM
Awarded the 2018 Winestate Australian & New Zealand Organic Wine of the Year, Kalleske Clarry's GSM is named in honour of winemaker, Troy Kalleske's Grandfather, Clarence 'Clarry' Kalleske. Clarry Kalleske, a fourth generation family member, farmed the Kalleske vineyards from the late 1920s until his retirement in the 1990s. Grenache, Shiraz and Mataro all work in harmony, delivering a layered wine of ample flavour, splendid structure and a lingering finish that pairs beautifully to wide variety of cuisine.