Top 5 tips to detox your skincare routine with KORA Organics
Every person varies with skin detoxing and how their body releases toxins (aka skin purging), it can often be unavoidable when switching from synthetic chemical skincare products to natural or certified organic skincare. Here are 5 tips to help your skin if you are detoxing from synthetic chemical skincare.
Often called the 'sunshine vitamin', vitamin D plays an integral role in skin protection and rejuvenation, just 10 minutes of sun exposure a day (with sunblock!) can contribute to skin cell growth and repair. It can also help enhance the skin's immune system to help destroy free radicals that can cause premature ageing.
Working out or sweating in an infrared sauna will also promote a natural detoxification which is how our body naturally de-activates and eliminates toxins. Sweating is one of the safest ways to detox the body regularly. The more you sweat the more toxins you can detox from your body (but make sure you are drinking lots of water).
And on the subject of water… keeping your body and your skin hydrated is so important! Experts recommend drinking at least 2 litres a day to help hydrate your skin and flush out toxins. Making sure you drink enough water throughout the day to decrease the risk of dehydration and premature aging and keep your glow.
Introducing a highly bioavailable Marine Peptide Collagen. Collagen is the largest and most abundant protein in the body. It is needed by almost every cell in the body for connective tissue and for maintaining youthful skin. Sadly, it is depleted with age, and we need to replenish it.
Turmeric is a potent source of anti-inflammatory and antioxidant components. Used frequently, this powerful ingredient can help revive your skin by bringing out its natural glow. I recommend exfoliating twice a week with our KORA Organics 2-in-1 Turmeric Brightening & Exfoliating Mask. This mask helps to clean pores and delivers the power of an invigorating facial treatment at home. It uses Rosehip seeds and Quartz to polish skin while naturally derived enzymes from Papaya and Aspen Bark (a natural source of BHA), detoxify pores and refine your skin. KORA has also just launched a Turmeric Glow Moisturizer which is an ultra-hydrating (refillable!) moisturiser designed to specifically target the appearance of pigmentation, dullness and fine lines and wrinkles. This beautiful new launch, plus the Brightening & Exfoliating Mask are the perfect Turmeric Twosome.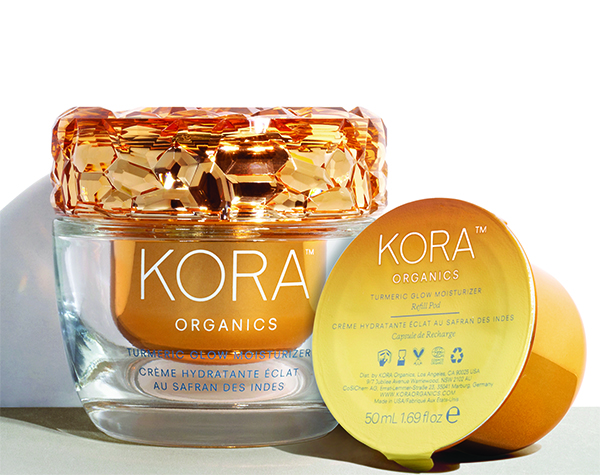 Founded in 2006 by international model Miranda Kerr, KORA Organics is a certified organic skincare brand that believes in using natural, organic ingredients to replenish, detoxify, nourish and revitalize your skin.
Learn more about KORA Organics here.
---
Images: koraorganics.com