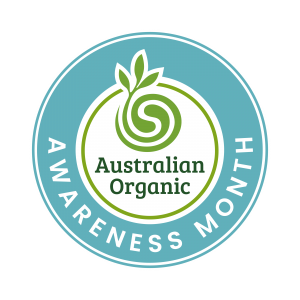 Join us in celebrating certified organic!
September is all about raising awareness of certified organic products, brands and businesses by educating consumers about why choosing certified organic is so important, and encouraging them to look for organic certification logos on their purchases.
Australian Organic Awareness Month (or AOAM for short) is Australia's largest campaign promoting the certified organic industry across all categories, including fresh produce, packaged food and beverages, cosmetics and skincare, home and garden products, textiles and even pet food!
Click on the images below to learn more about organic in Australia.
Remember to tag us on social media and send us your organic snaps!
@budorganicclub #AOAM2022 #ChooseOrganic #AustOrganic #WhyOrganic
Certified Organic:

what's the difference?
You may not think twice when you pick up an organic product, but there is actually a difference between organic and certified organic products in Australia. Certified organic products have been rigorously tested through every step of the process, from the farmer's field right up to the store shelf. Certified organic products adhere to a strict set of organic standards, such as the National Standard for Organic and Biodynamic Produce or the Australian Certified Organic Standard.
Did you know that currently in Australia there is no mandatory domestic regulation around the term 'organic' on product labels? This means that a product with as little as 2% organic ingredients can claim organic on its packaging. Find out why peak industry body Australian Organic Limited is hoping to make a change to the industry.
Awareness Month 2022 Sponsors
We are excited to announce a range of new and returning sponsors for our 2022 Awareness Month campaign. Our Awareness Month campaigns simply wouldn't be possible without the continual support of our sponsors.