Bud Organic Club Members: Check your inbox for an exclusive discount code!
To celebrate Australian Organic's Organic Earth Week campaign, adventurer, documentary-maker and founder of the Earth Hour initiative, Todd Sampson, will be hosting an exclusive seminar to deep dive into Todd's motivation behind Earth Hour, the "hour of no power" which falls on 27th March 2021.
We will also look into how the organic industry is supporting a more sustainable approach to agriculture and the environment, how Organic Principles and Practices focus on the betterment of the natural environment and the ways in which the brand new Australian Organic Schools Program supports education for a more sustainable future.
The seminar will be hosted at Perfect Potion in Banyo, Qld, on Friday 26th March 2021 and will include a one-hour seminar followed by drinks and nibbles, with a chance to ask Todd your questions. Limited tickets are available at the link below. Bud Organic Club members have been sent an exclusive code to get $30 OFF live event tickets, check your inbox for more information!
For those unable to make the physical event, free virtual tickets are also available for Bud Organic Club Members – make sure you're logged in to receive your exclusive discount!
Don't miss out on this incredible opportunity!
Friday 26th March 2021 | 4pm – 6pm AEST
Perfect Potion | 7 Guardhouse Rd, Banyo, Qld 4014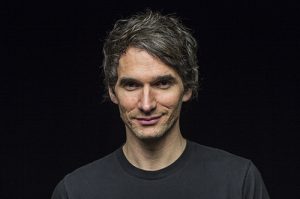 About Todd Sampson
Todd Sampson was formerly the CEO and Chairman of Leo Burnett, the most awarded agency in Australia, whose clients include AAPT, Amstel, Australia Post, Caltex, Canon, Colgate Palmolive, Colonial First State, Diago, Energy Australia, Fairfax, Heineken, Macquarie Bank, Nestle, NRMA, Procter & Gamble (Herbal Essence & Max Factor), Rabobank, Samsung, Scope, Vero Insurance and WWF.
He's an adventurer, award-winning documentary-maker, television presenter and businessman. The Financial Review and News Limited ranked him as one of the most influential executives in Australia. He currently sits on the Board of Directors for Qantas. He is also the co-creator of the Earth Hour initiative, one of the largest environmental movements in history reaching over 1 billion people in 5500 cities worldwide. the coveted Titanium at Cannes and Yahoo Chair for Innovation in 2008. That same year Earth Hour was awarded B&T's Creative Campaign of the Year in Australia and in 2009 it became the biggest environmental movement in history with over one billion participants.
He is now the writer, producer and host of a number of international documentaries including Discovery Channel's Redesign My Brain which won Documentary of the Year, BodyHack which has been nominated for Best Factual Series and Most Outstanding Documentary of the Year and more recently Life on The Line. One reviewer colourfully captured Todd's unique approach, "If Bear Grylls, Louis Theroux and Brian Cox had a love child together, it would be Todd Sampson."
Away from work, he enjoys mountain climbing and has completed an unguided ascent to the summit of Mount Everest.