Recipe by Absolute Organic
We couldn't wait to bring you some recipes with our Ginger in Syrup as apparently everything we make with it turns out delicious, with a unique and unexpected touch of ginger. This recipe is delicious and perfect to celebrate St. Patrick's Day as it's got this incredible beautiful avocado-green colour that just matches with the decorations for the day.
It is a raw dessert, so you only have to prepare and spread out the layers to make it – and is for sure a good recipe to make with the kids as well!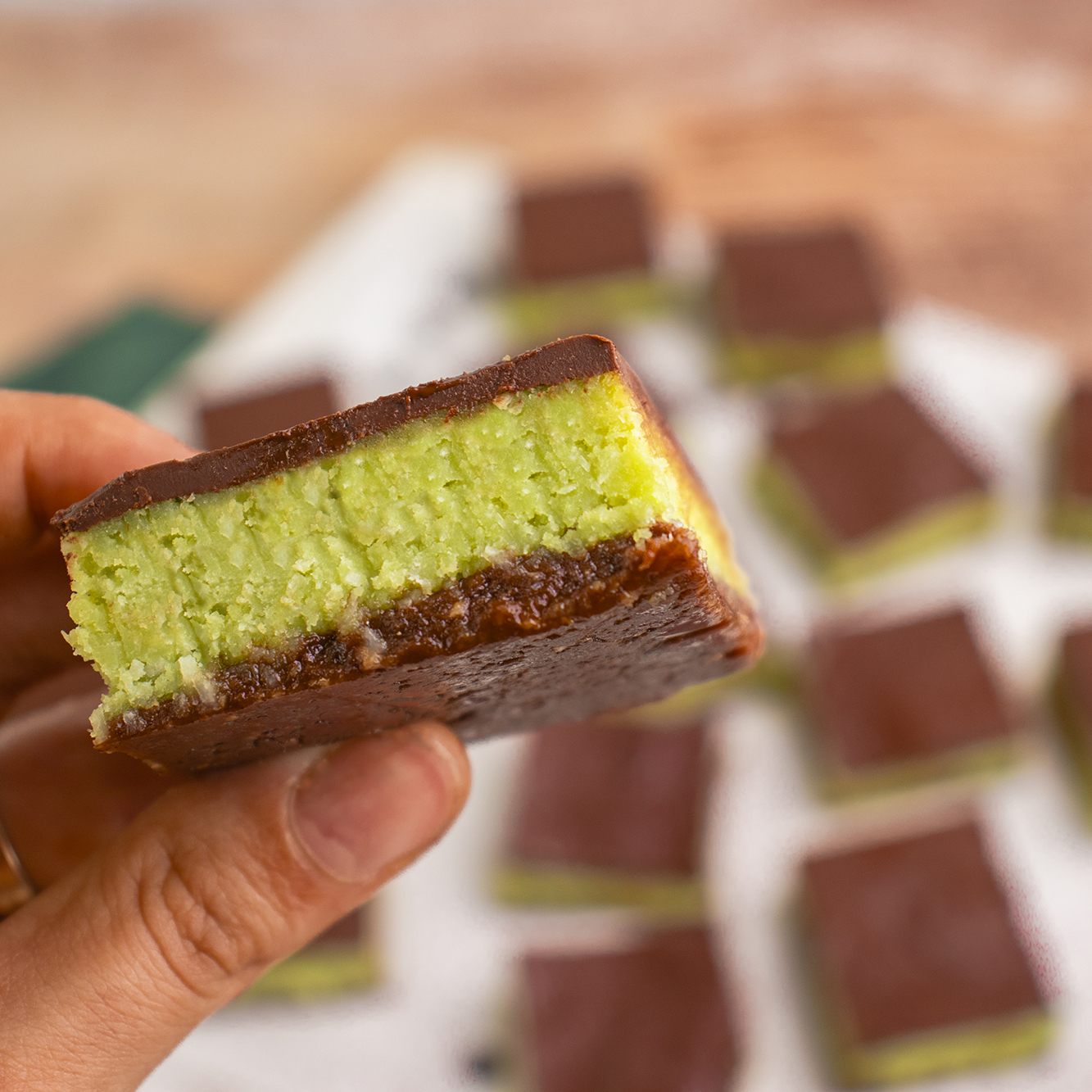 18 portions
Total preparation time: 1h
Ingredients
Base:
2 tablespoons of Absolute Organic hazelnut butter
½ cup rolled oats
1 packet Absolute Organic medjool dates pitted
6 pieces of Ginger in Syrup
2 tbsp cacao powder
4 tablespoons of coconut oil, melted
Slice:
2 cups desiccated coconut
1 cup coconut flour
½ cup of the syrup from the ginger
4 Avocados
¾ cup coconut oil, melted and cooled
Top:
1 cup of Absolute Organic Vegan Chocolate Chips
2 tablespoons of hazelnut butter
Method
1) Using an electric food processor or blender, blend all the Base ingredients together until combined.
2) Layer the mixture on a baking tray lined with baking paper and take it to the freezer for about 20 minutes.
3) Blend all the Slice ingredients together until combined.
4) Layer the mixture on the top of the base layer previously done, and take it to the freezer for about 20 minutes to firm up.
5) Melt the chocolate and stir with the hazelnut butter in a bowl until smooth. Pour over the top of the green slice and return the dessert to the freezer for about one hour until is completely set.
6) Cut as preferred and enjoy!
View the recipe and find delicious certified organic ingredients on the Absolute Organic website here.