Chef and MasterChef judge Andy Allen is this year's Australian Organic Awareness Month Ambassador and has cooked up this special recipe, championing certified organic ingredients.
"The dish came about in the restaurant where we had a broccoli side on the menu, and I noticed that we were trimming the broccoli and we were cutting the stem off. It's all about dressing and using the stem, which is super sweet, and pairing it with some yoghurt and herbs which adds a bright lift to the dish. When you put it on the table, you know it's healthy, but it's also bloody tasty too!" Andy Allen
Watch Andy cook up his special dish below. Scroll down for the full recipe and method. Enjoy!
Serves 4 as a salad
Ingredients
1 head of Coles Organic broccoli
1 certified organic lemon
1 certified organic green apple – cut into match sticks
100g Jalna Farm to Pot Organic yoghurt
2 tbs Bertolli Organic extra virgin olive oil
2 tbs Murray River Organics whole almonds – toasted and chopped
2 Enviroganic Farm certified organic chicken thighs, skin on
Half a clove garlic
1 handful mint
1 handful parsley
3 anchovies
60g parmesan – shaved with a veggie peeler
60g sourdough bread trimmings ripped into chucks
60ml hot sauce – optional
Salt and pepper – to taste
Method
Place a griddle pan over a high heat. Slice the broccoli into quarters and season it with salt and a little extra virgin olive oil. Arrange on the char grill to cook for 4 – 5 minutes and then set aside.
Season the bread with olive oil and salt and pepper and char grill so that they're charred and crispy. Next, lay the chicken thighs out over the hot griddle pan and cook for 4 minutes on each side. Brush the chicken with the hot sauce on both sides for the last couple of minutes of cooking.
Slice the stalks off the broccoli, cool slightly and place in a blender. Add the anchovies, garlic, half of the herbs, yogurt, a little lemon juice, olive oil, salt and pepper and blend everything until smooth. Roughly chop the remaining broccoli.
To plate, in a large mixing bowl, add in the broccoli, sliced chicken, apple, almonds, herbs and broccoli cream, season with salt and pepper, top with the croutons and parmesan.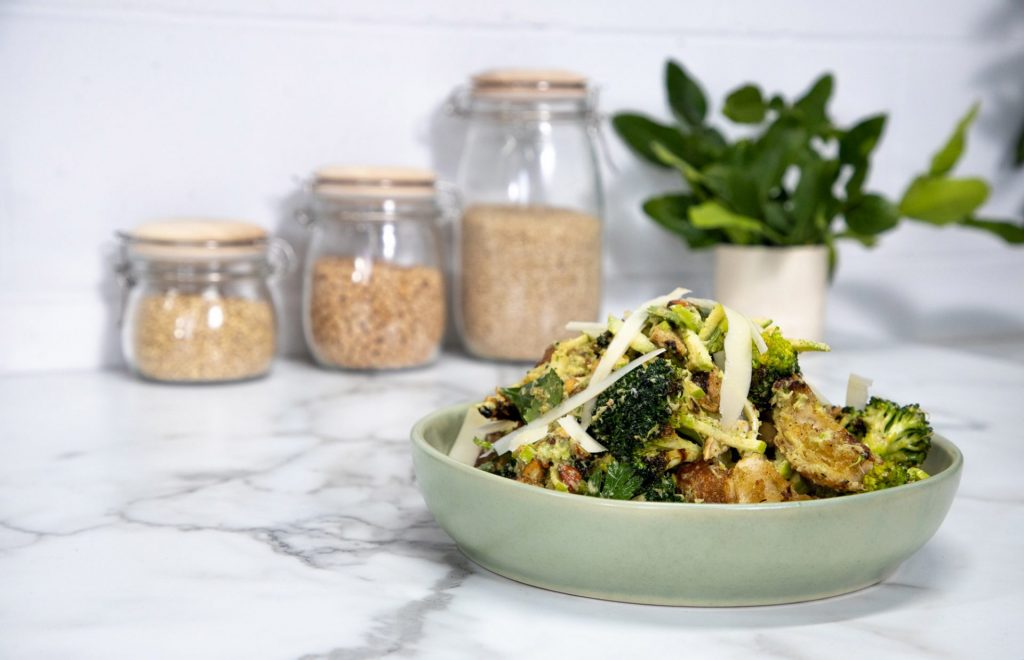 ---
Remember to share your organic cook-ups and recipes with us on social media @budorganicclub and use the hashtags #AOAM2021 #WhyOrganic #ChooseOrganic
Learn more about Australian Organic Awareness Month and how you can get involved this September, including recipes, competitions and special offers, here.