Health coach, media personality and host of the upcoming Australian Organic Awards in November, Elle Halliwell, shares a favourite spring-time recipe – sweet potato cakes with guacamole
I'm often asked what my favourite vegetable is. Whilst I have many, I have to say I absolutely love sweet potatoes. Not only are they absolutely delicious, they're also very good for you.
Sweet potatoes are a rich source of fibre, and contain an array of vitamins and minerals including iron, calcium, selenium, most B vitamins and vitamin C. They're also high in an antioxidant known as beta-carotene, which converts to vitamin A once consumed.
These flavour packed patties below are staples in my freezer and is one of my young son Tor's favourite meals. I'll often make a double batch and serve them with whatever meat or fish I'm cooking for dinner. They taste amazing with corn guacamole but also pair well with most dips such as hummus and cucumber yoghurt.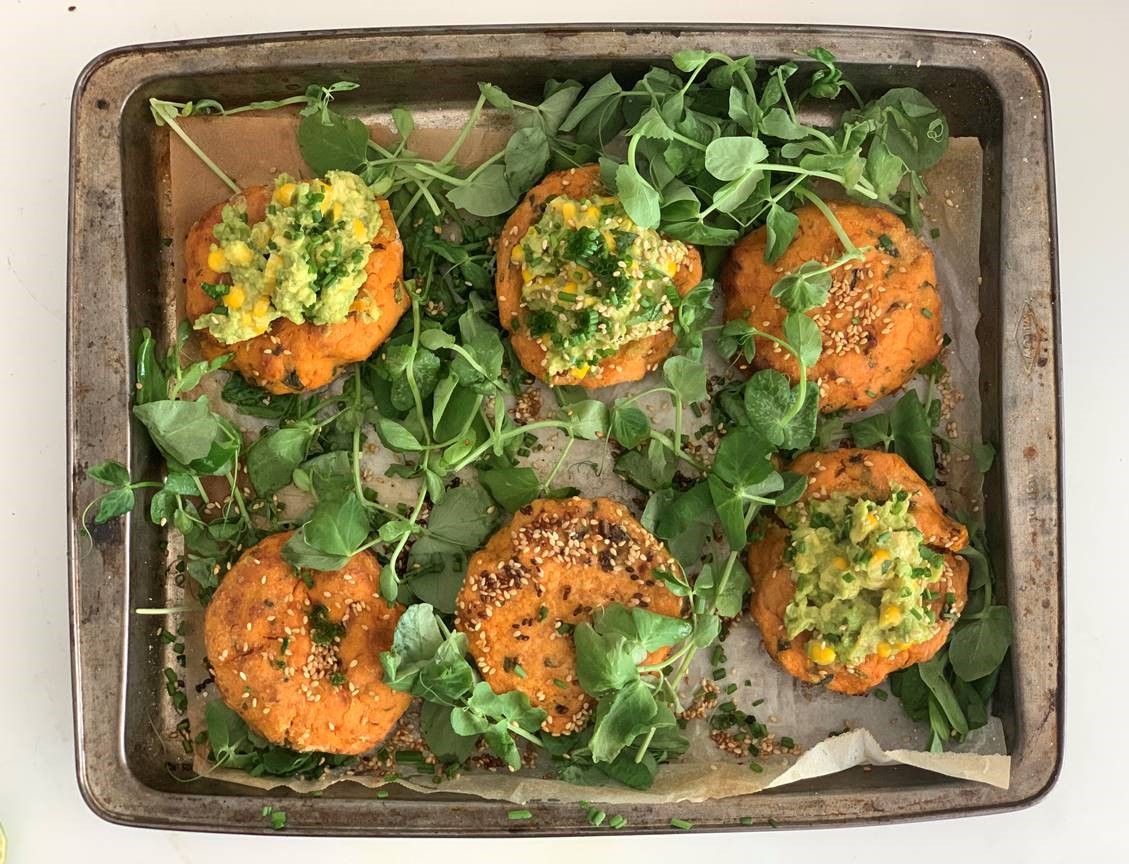 Sweet potato cakes with guacamole
Makes 8-10 cakes
Prep time: 15 minutes
Cooking time: 40 minutes
Sweet potato cakes
3 large organic sweet potatoes cut into 2cm cubes
1 tsp cumin
1 tsp smoky paprika
1 clove garlic, chopped
1 tbsp tahini (I use Pureharvest Organic Tahini)
½ cup almond meal (or breadcrumbs)
1 tbsp arrowroot flour
½ cup chopped baby spinach
½ cup herbs such as chives, parsley or coriander
Tbsp sesame seeds
Cheesy corn guacamole
1 organic avocado
2 sprigs spring onion, finely chopped
1 ear corn
½ clove garlic, finely chopped (optional)
2 tsp lime juice
1 tbsp nutritional yeast
Preheat oven to 200C. Place cubed sweet potato into a stovetop steamer and cook for 15 minutes or until softened. Place cooked sweet potato into a large bowl and roughly mash with a fork. Allow to cool slightly. Add cumin, paprika, garlic, tahini, spinach, herbs and almond meal to the bowl and stir until well combined.
Form mixture into palm sized patties and lightly dust with arrowroot flour before placing on a baking paper-lined tray. Drizzle with olive oil and bake for 20-25 minutes or until patties are golden brown. Sprinkle with sesame seeds.
For the guacamole, cook corn in a saucepan of boiling water for 3 minutes, allow to cool, then slice kernels off ear. Place corn, avocado, spring onion, garlic, yeast and lime juice in a bowl. Stir to combine and serve immediately.