Recipe by Dr Sarah Lantz
Makes a 4-litre brew
It's no secret that I believe in the power of a good witches' brew and there is no better time to make Fire Cider than now, when we have both the immune boosting ingredients in season and we are afforded the time and space begin some gut-enhancing, home grown fermentation projects. And fire-cider really is the ultimate body burn.
I came across this recipe years ago at a women's gathering in the US, and while it initially appeared to be pulled directly from one of Grimm's fairy tales, it's probably the most sought-after tonic I use in our home, and share with our community. There are many stories of the magic this tonic weaves in their lives, from soothing and relieving arthritic fingers through to warding off coughs, flus, colds and the dreaded lurgy. Though not imparted with any actual mystical powers, although I'm definitely open to this idea, fire cider truly is magical in its herbal reverence, which combines a good vinegar with nature's superheroes " ginger and turmeric root, garlic, horse radish, chili, jalapeñs, herbs and spices, and citrus. While this tonic is revered by herbalists for its ability to help ward off winter colds and coughs, it can be used all year round and is easy to incorporate into your daily diet to help boost the immune system, stimulate digestion and warm the body.
Fire Cider can take weeks and even months to imbue and mature, so start a batch now. We have a continuous brew on our counter top at home and remove small amounts of the prized liquid whenever we need it, making sure to top it back up from time to time. The preparation of this potion is also not an exact science, if you're missing some of the ingredients listed below, not to worry, it's adaptable and easy to switch out some of the seasonings and herbs with other ones. This means you can get creative with your cider. There are plenty of herbs and spices that can be thrown in for added kick and taste.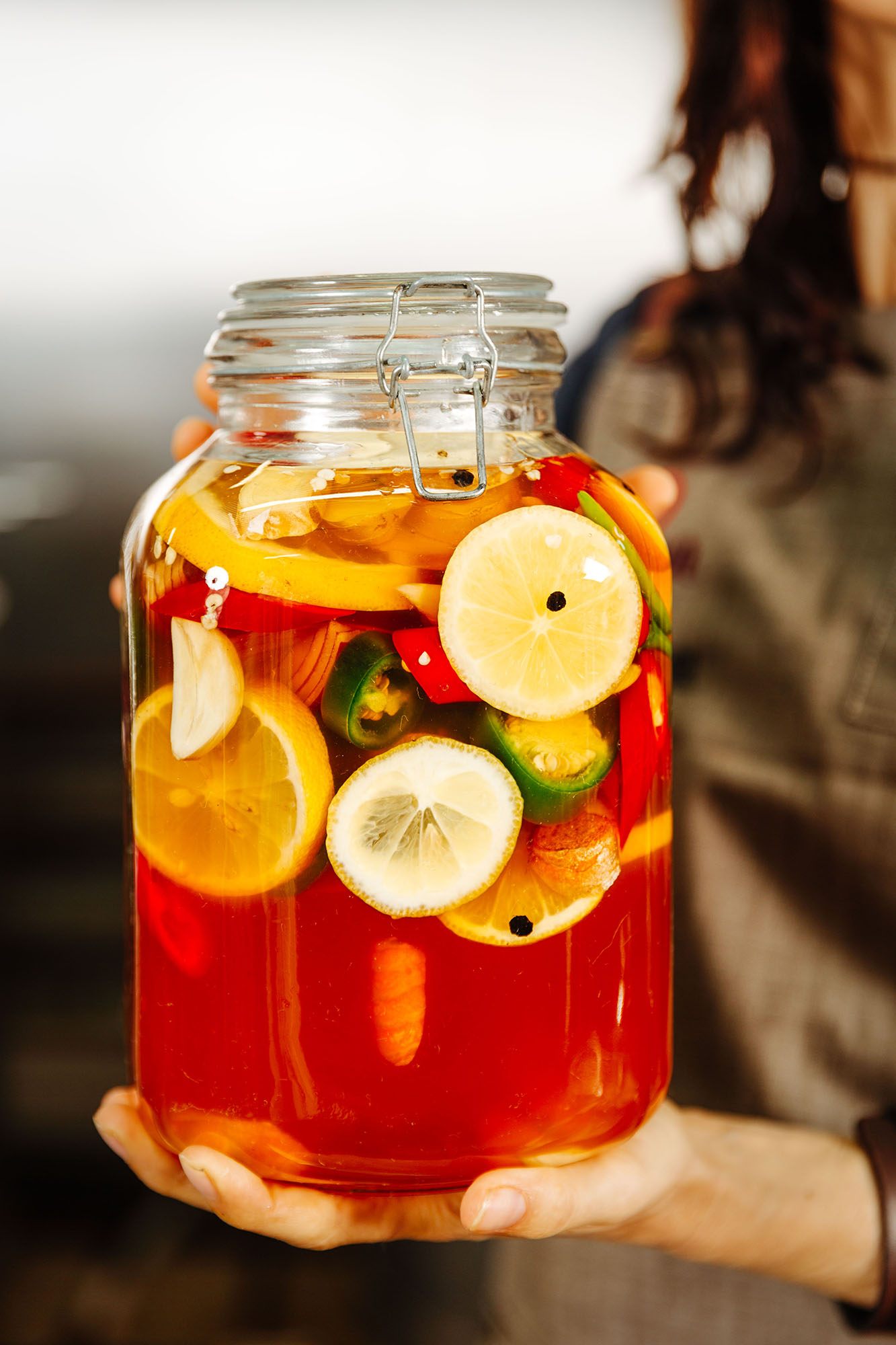 Ingredients
½ cup ginger root
½ cup horseradish root or dried root (if you can get it, no worries if you can't)
½ cup turmeric root
1 onion
¼ cup garlic
6 jalapeñ peppers (or any chilis if you can't find jalapeñs)
2 lemons or limes
Apple Cider Vinegar (or kombucha vinegar – kombucha that you've left too long and has turned to vinegar) (to fill the jar)
Optional additions: Several sprigs of fresh rosemary or thyme, pepper corns, chili powder, raw honey, galangal, cinnamon stick, black pepper, cats claw or gota kola herbs.
Method
Into a good-sized jar, around 4 litres, chop, dice or grate the ginger, horseradish, onion, garlic, jalapeñs and lemons. Pack them down lightly. Use a fermenting weight to hold down the veggies/roots or place heavy roots at the top so that they will weigh down the herbs and jalapeñs, which float.
Pour a generous amount of kombucha vinegar or apple cider vinegar (or a combination) over the roots, herbs and vegetables. You want everything to stay under the liquid to prevent spoilage from exposure to the air. Keep in mind that some of the roots will expand a little, so top it up well with your vinegar. If you're using a metal lid, line it with wax paper so that the vinegar doesn't corrode it, then put the lid on.
Place out of direct sunlight for weeks, or months. Give it a shake or stir occasionally. When your cider is ready, shake well and strain the roots and veggies using a sieve. You can store your cider in the fridge for months.
There are many ways to ingest a Fire Cider brew " in tiny sips or as a flaming slam-dunk shot. The Fire Cider can also be added to veggie juices, or you could throw in some tomato juice, olives and pickles for a non-alcoholic, health-boosting Bloody Mary. You can also splash your Fire Cider in fried rice or drizzle it on a salad with a good olive oil. In the winter, we add our Fire Cider into healing teas and breathe in the steam as you sip to relieve congestion. For our kids, we add a touch of Fire Cider to freshly-pressed juices and salad dressings and teas, with a touch of honey for sweetness.
Notes: Please don't waste the delicious fermented veggies. You can use the strained veggies in stir-fry or spring rolls or blend them into a marinade or finishing sauce to be used in dips, salsas or conserves. It's a zero-waste cycle.
Article by:
Dr Sarah Lantz (PhD)
Buchi Brew Co. & Sacred Women's Way