Is there anything more romantic than the art of distilling gin?
Not according to Stuart Mackenzie, distiller and founder of organic gin label Little Juniper. In fact, he considers it such a creative process, he likens it to conducting an orchestra and creating 'a Mozart of botanicals'.
We caught up with Stuart to find out more about his love for gin and to share the perfect cocktail recipe for this Valentine's day.
---
Stuart celebrated reaching the legal drinking age like most youths; he headed to the pub and proudly ordered an alcoholic beverage. But the bartender was shocked.
"A gin! We have plenty other spirits your grandmother would like!" he mocked.
The experience was like a red flag to a bull, and Stuart has been fiercely passionate about gin ever since.
"Most people my age drank rum or vodka, but I loved gin," Stuart said.
Skip forward 30 years, Stuart is now a gin distiller based in South Australia's Adelaide Hills, dedicated to creating traditional-style gin with a very modern and botanical twist.
"We used a rotary evaporator to extract and test the most delicate flavours and I spent months refining my palate to taste and understand more than 90 organic botanicals and how they interacted before we distilled our final recipe using a traditional copper still," he said.
Stuart's creative approach has culminated into a tradition dry London-style gin, that hints at more than 20 botanicals. It's so smooth and tasty, it can be enjoyed 'on the rocks', devoid of the traditional accompaniment of tonic.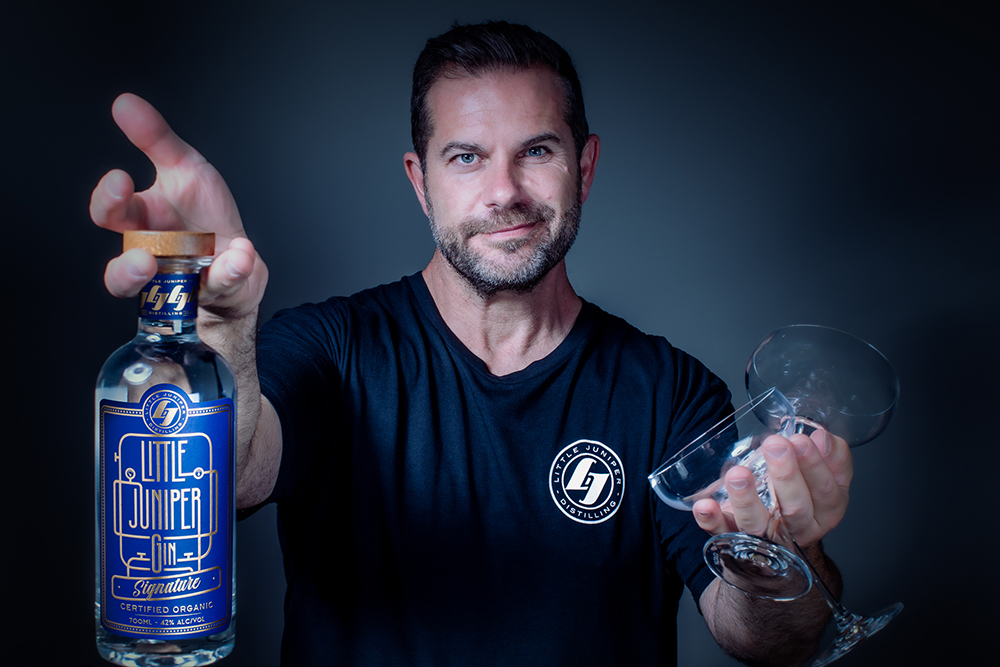 FOR THE LOVE OF MOTHER EARTH
The love that Stuart pours into the creation of his gin goes beyond the flavour; he takes his responsibility for the environment just as seriously.
His family is based in the foothills of the Adelaide Hills, which means that bushfires are a harsh reality. While their increasing frequency is shocking to Stuart, he fears it will be normal for his children.
"I had experienced Ash Wednesday, but I feel they have only become more chronic since then," he said.
Since becoming a father, Stuart has begun to think deeply about his responsibility to the earth and what the next generation will inherit. He sees Little Juniper as an opportunity to educate people about how they can choose to be more environmentally friendly with their drink choices.
"The 'little' in Little Juniper is referring to the footprint that the business has on the earth," he said.
"There is a lot of waste in the process of distilling and there are a lot of pesticides that can go into the ingredients that make gin.
"We have eliminated wasting water by creating a closed circuit for most of the water used in the distilling process. The water that can't be reused in the gin process goes onto our garden that grows some of our botanicals and herbs."
Becoming organically certified has been a large part of the process.
"I am very fussy about what goes into our gin and I think people should be fussy about what they consume," Stuart said.
"Using organic products gives me an assurance I know how those ingredients have been produced."
"Getting certified and displaying the bud on our gin gives our consumers the confidence to know our gin has been made to the highest standard using the ingredients that have literally not cost the earth, in environmental terms, to produce."
G & V
As a self-confessed romantic, Stuart will be spending Valentine's Day whipping up a Little Juniper Clover Club Cocktail for his loved one and highly recommends it for others.
"The Clover Club is a bit of an all-rounder, because it is so refreshing – but it is ideal for Valentine's Day," he said.
"Our gin pairs perfectly with anything with a citrus base, which the Clover Club has, while the raspberry gives a punchy flavour and delicate colour."
"I think it is perfect to be drunk around the pool enjoying the last of the summer evenings."
Little Juniper Clover Club Cocktail
Ingredients
45 ml Little Juniper Signature Gin
30 ml Lemon Juice
30 ml Fresh or frozen raspberries or raspberry puree
15 ml Simple syrup
1 Egg white
Ice
Method:
Add the above ingredients into an empty cocktail shaker.
Fill the shaker with ice and shake vigorously.
Double strain and discard the ice.
Add 1 Egg white to the mix and shake for a further 10 seconds.
Pour your cocktail into a chilled cocktail glass and garnish with a raspberry or two…or three.
Follow us on social media and share your recipes and stories!