By Louise Wright
What is International Women's Day?
International Women's Day is celebrated on the 8 March each year to increase awareness of gender equality and celebrate women across the globe.
This year's theme is #BreakTheBias with the aim to call out inequality, discrimination and stereotypes for a more inclusive and diverse world.
This International Women's Day, we are celebrating the achievement of women in the organic industry in Australia by sharing female-led certified organic brands.
From skincare to fresh produce, wine, textiles, and restaurants, women are leading the way in innovative certified organic brands, products, and businesses right across Australia.
Food & Wine
Amy Tiller – Sherwood Road Organic Meats
Sherwood Road Organic Meats is a family-owned business in southeast Queensland selling certified organic meats direct from local farms. The Rocklea store in Brisbane has been owned and run by Amy Tiller and her family since 2013. The store sources ethical and sustainably sourced meat from family farms, including her own family's farm located near Roma and run by her father Adrian Tiller.
Growing up on the family farm, Amy has a passion for organic production, animal welfare and the importance of keeping their carbon footprint small.
The store won the Retailer of the Year Award at the 2017 Australian Organic Annual Industry Awards for their commitment to providing high quality, certified organic and locally sourced products for their customers.
If you want to ensure your meat is free from synthetic chemicals, pesticides, preservatives and growth promotants, then stop by Sherwood Road Organic Meats in Brisbane. Order online or visit Amy and the team in store – check out the product range on their website.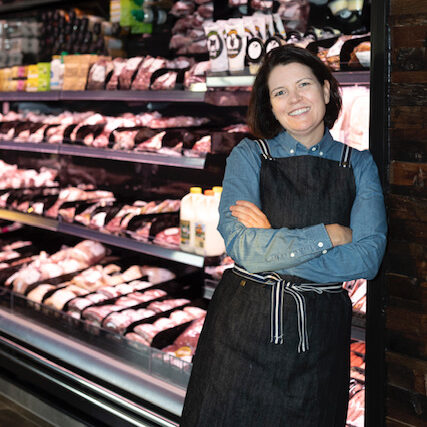 Katrina Kehoe – Kehoe's Kitchen
Katrina Kehoe is the founder and managing director of Kehoe's Kitchen – Australia's first certified organic producer of raw probiotic fermented foods including kimchi, sauerkraut, pickles & dips. Kehoe's began as a personal health journey for Katrina, who was unwell after having their second child. The resulting change in health for the whole family spurred her passion to share recipes, and eventually develop their own probiotic fermented food product line.
Kehoe's Kitchen is now an award-winning brand stocked in stores across Australia, Hong Kong, Singapore and coming to Indonesia this year. In 2021, Katrina won Trailblazer of the Year in the Australian Organic Industry Awards for her dedication to the organic industry – consistently working with farmers on forward planning, agreed pricing and working with the seasons, as well as encouraging farmers to convert to certified organic.
Kehoe's Kitchen delicious range of products can be found in supermarkets, health food stores and independent retailers. You can also order directly from their website.
Georgia Beattie – Bulla Park
Bulla Park is Australia's largest (and oldest) certified organic mushroom producer, with two farms and over 80 staff in Victoria. Producing mushrooms for over thirty years, Bulla Park is focussed on sustainable, clean, high-quality farming that creates a positive environmental impact.
Georgia Beattie became Bulla Park's CEO three years ago, after initially contacting them as a customer and eventually becoming a shareholder. Having a keen interest in high performing agriculture systems and farm innovation, Georgia is dedicated to advancing female entrepreneurs and growing sustainable and smart food. Bulla Park mushrooms are sold at independent retailers. Find out more about Bulla Park on their website.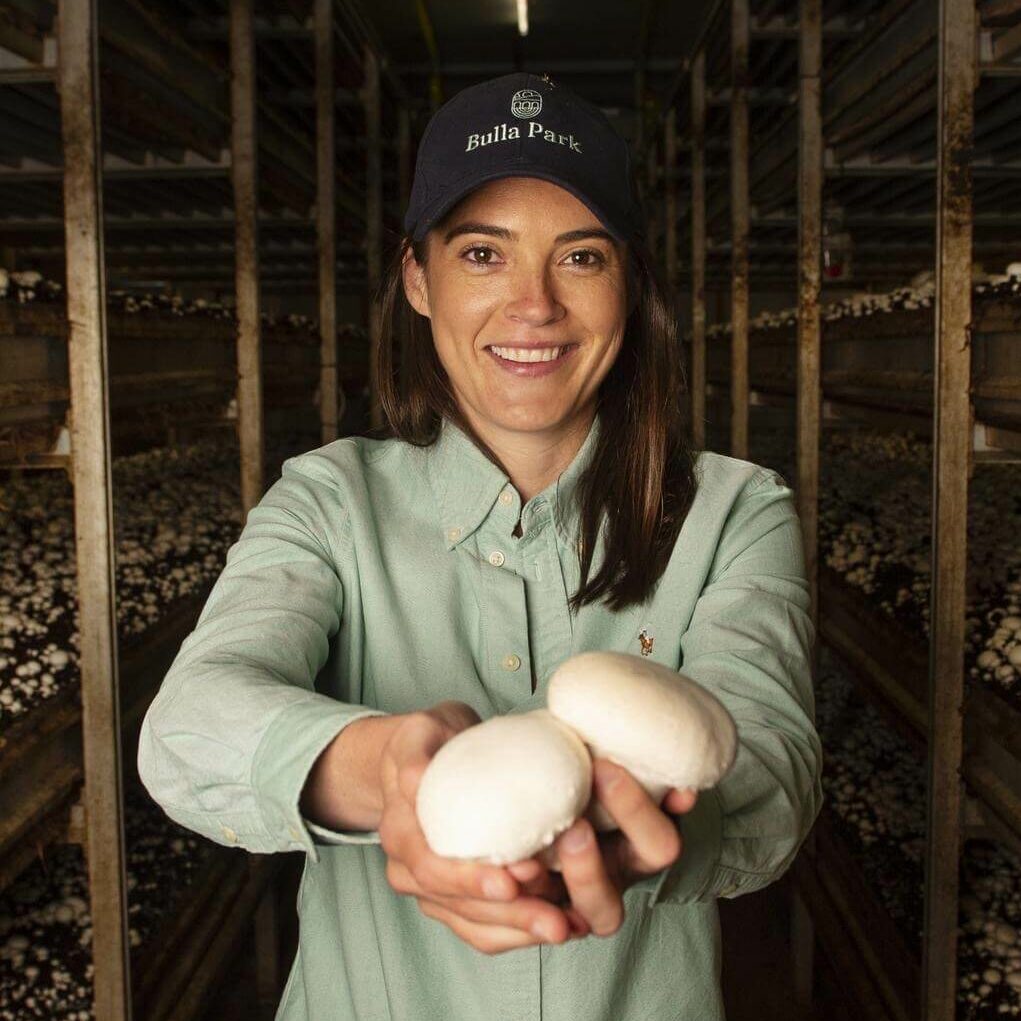 Anna Maria Eoclidi – Pasta Emilia
Drawing from her rich family history, Anna Maria Eoclidi founded Pasta Emilia in 2004 as a tribute to the food, cooking, winemaking and farming of Italy's Emilia-Romagna region. Growing up in a small village in the Emilia-Romagna region (the pasta making capital of Italy), Anna's grandfather was a farmer and winemaker and she remembers spending time with him on their family's farm.
Based in Sydney, Pasta Emilia is Australia's only certified organic pasta brand, restaurant and cooking school created in tribute to the gastronomic traditions of Emilia-Romagna and is dedicated to sourcing and showcasing the best quality local certified organic and biodynamic ingredients.
If you're in Sydney, book a table at the restaurant or treat yourself to a cooking class. You can also shop their beautiful range of fresh pastas, sauces and more online. Find out more on their website.
Vanya Cullen – Cullen Wines
Cullen Wines Chief Winemaker, Managing Director and Co-Owner Vanya Cullen has been winemaking at her family's estate since 1983. Vanya has been making wine for over three decades, and during this time she has transformed the family vineyard into one of Australia's premium boutique wineries, while establishing herself as a leader in Australian biodynamic farming.
Vanya's palate has been honed by judging throughout Australia and overseas, and by her continuous pursuit of a thorough knowledge of the wines of the world. Vanya was awarded 2020 Winemaker of the Year at the Halliday Wine Companion Awards, as well as receiving the Chairman's Award at the 2019 Australian Organic Industry Awards for her decades of commitment to organic and biodynamic farming practices.
Cullen Wines produce quality wine that is certified organic, biodynamic, and carbon positive. Their range includes a wide variety of both white and red wines to suit every occasion. Find out more and shop the full range on their website.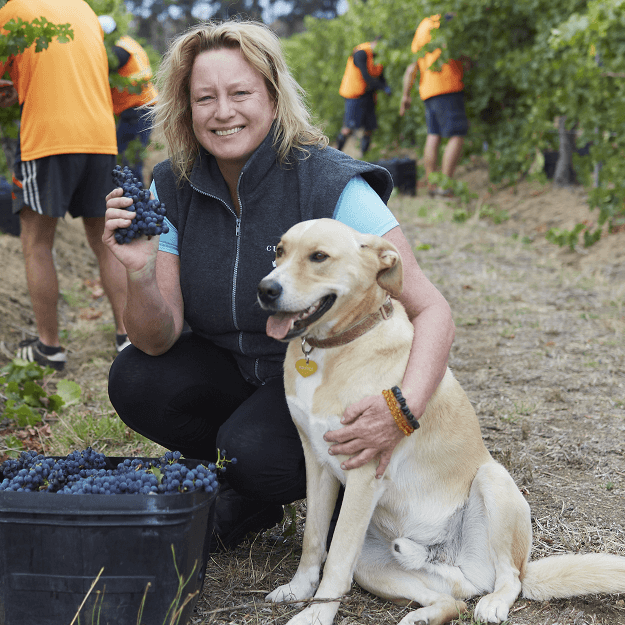 Cosmetics, Health & Lifestyle
Megan Potter & Amanda Hawtin – Megan Potter
Megan Potter offers certified organic skin care, hair care and makeup products, most of which are made in South Australia.
Megan is a qualified beauty therapist and makeup artist and curates the makeup collections and runs social media, and her cousin Mandy is the skin care formulator and business manager. As a teenager, Mandy started to make her own skin care to avoid seafood allergens and shortly after joining forces with Megan started to develop facial oils on a commercial scale. Their mineral makeup business quickly expanded to include certified organic skin care and hair care.
In 2020 Megan won the SA Woman of the Year Award in the Rise Up category for a year of outstanding growth.

The first products to receive organic certification were three facial oils and their most popular product Organic Gentle Cleaning Oil. They hope to extend this range through 2022 and 2023 as Mandy completes her qualifications to become a Cosmetic Chemist.

Both women are extremely proud of the Megan Potter brand, and believe it to be the purest skin care, hair care and makeup available. They are so confident in their products that Megan and Mandy offer a 100% love it or your money-back guarantee. Check out the full product range on their website.
Anca Anderson – Inca Organics
Inca Organics is a health and wellness nutrition company based in Melbourne. Managing Director and owner Anca Anderson took on the brand in 2018 when she was just 32 years old, with a background in the fast moving consumer goods (FMCG) space and a passion for health and wellbeing.
INCA offers premium wellness supplements with a clean label, minimal, fully traceable and functional ingredients, including Australia's first and leading certified organic Whey protein powder.
Carefully curated formulations developed in conjunction with nutritionists that are designed to nourish you skin and body from within.
INCA Organics focus on sourcing fair trade, certified organic and high-quality ingredients as well as using eco-friendly packaging. Their product range includes whey protein, plant-based protein, collagen, and superfood powders. Find out more on their website.
Susy Kennedy – Organic Print Studio
Organic Print Studio is run by Susy Kennedy in the foothills of the Dandenong Ranges in Victoria. Susy creates bespoke keepsakes printed on top-quality certified organic cotton tea towels and tote bags.
Collaborating with local businesses and reproducing the artwork of Australian artists keeps her busy.
Tea towels are a lasting souvenir visitors can take away with them and every now and then pull from the drawer remembering your event (an engagement, wedding or thank you), your business, or you.
The environment and sustainability are important to Susy, who sources her materials as ethically as possible and seeks to minimise impact on the environment.
Organic Print Studio offer in house designs you can use, along with the option to upload your own artwork/design. Find out more and explore the range here.

You can find out more about International Women's Day and how you can get involved on their website.
How are you celebrating this International Women's Day? We'd love to see – be sure to tag us on social media.
Looking for more? You might like these articles:
Images: Supplied