We caught up with Brenden and Katrina, Founders of Kehoe's Kitchen, at their HQ in Brisbane to learn more about their inspiring journey.
Kehoe's Kitchen is proudly Australia's first certified organic producer of fermented vegetables, cashew dips and spreads. Established in 2013, the brand is based in Brisbane, Queensland, and operated by devoted husband and wife team Brenden and Katrina.
Sprouted from humble beginnings, Kehoe's story began with a blog, a fortnightly stall at Northey Street Organic Markets in Brisbane, and a passion for health and fermented foods.
K: "We had a fortnightly stall at Northey Street Organic Markets selling fermentation crocks and equipment, books and just teaching people how to ferment and eat healthy food. That's how it all began. We were only given a fortnightly stall as we weren't selling organic produce. The market owners said, 'make your own sauerkraut then you can have a weekly spot.' I said, no way that's too hard! I can't make sauerkraut for everyone!"
This, alongside demand for their online recipes, gave Katrina an idea. With a background in structural engineering, it didn't take long for her to draw up plans to convert the lower storey of their Carina home into a fully functioning commercial kitchen.
K: "I took Brendan out for lunch on his first day of long service leave and pulled out the plans to convert the lower storey of the house, he said OK – so we built it!
"A month later we had our food business licence, and a year later we were Australia's first certified organic producer of fermented vegetables, cashew cheeses and dips."
The business grew exponentially from there, and it wasn't long before they expanded to their second fit-out and engaged local distributor United Organics. The brand went from 25 to 130 stores overnight; selling nationwide in over 500 stores within 6 months of becoming certified organic.
B: "There was a real buzz about our product which was fantastic because it all happened so quickly."
Getting their foot in the door a Woolworths took a little longer but their perseverance paid off. Beginning with a short product trial, they soon found their full range in over 270 Woolworths stores.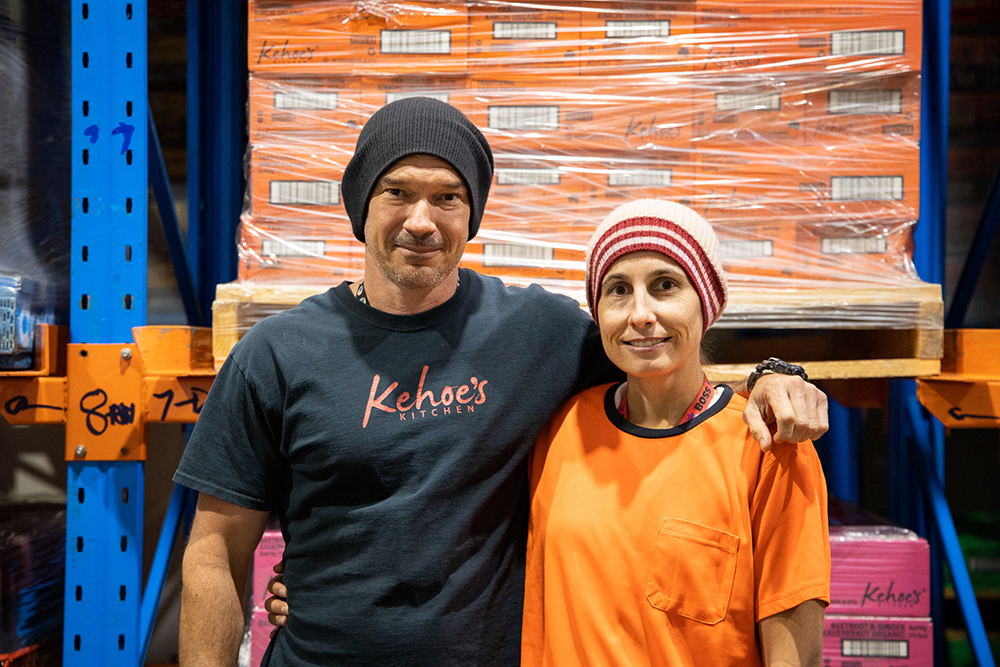 For Katrina and Brenden, the journey into organics was a personal one.
K: "I was not well after having our second child. I fainted getting up one night to breastfeed her and fell on the floor. After about 6 months of doctors' appointments and trying to figure out what was wrong with me – we got nowhere. I even saw a heart specialist. It turned out to be leaky gut, so, after my diagnosis, I was put on a paleo diet to help my gut to heal.
"One day I went to Wray Organic in Cannon Hill to listen to a talk about the GAPS diet – a paleo diet to assist with conditions of the brain. The GAPS diet is slightly different as it allows 24 hour fermented dairy, ghee and milk kefir to help heal the gut."
(GAPS stands for Gut and Psychology Syndrome, invented by Dr. Natasha Campbell-McBride – a neuroscientist who studied nutrition to help her child with autism. Her theory is that the diet can be used to heal leaky gut, which could cause conditions that affect the brain).
B: "We all went on the diet and our kids thrived and we thrived. It was a fair while ago now, but since then there has been much more research about the importance of your gut health and what role it plays in your overall wellbeing. That's the main crux of what we were trying to do; to fix our gut health, in combination with the appropriate medical treatments provided by our doctors. We saw a huge change in ourselves; we were more energised and healthier."
This positive change in health spurred Kehoe's love for fermented foods.
B: "8 years ago, gut health wasn't a thing. No one expected us to make money. Awareness is definitely driving demand. There's still a lot of people that aren't aware of fermented foods and the benefits of good health."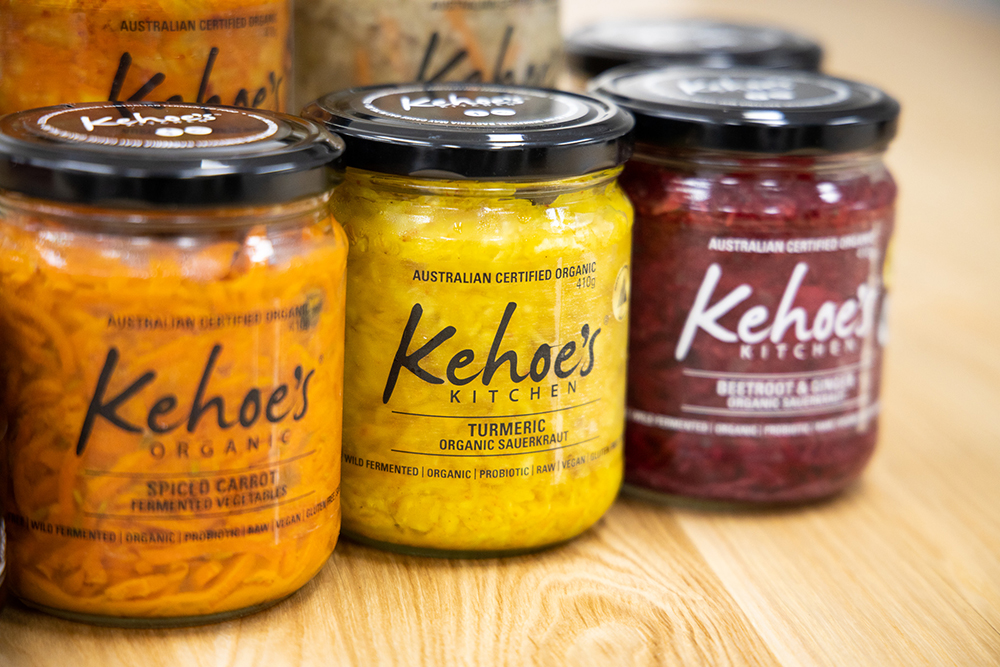 If you're missing Kehoe's classic jars on supermarket shelves, don't worry! Katrina assures us that you can still find all the jarred products you love at your local independent store.
K: "Our new pouches we haven't labelled as organic – we want people to understand the difference. The pouches are a more affordable, non-certified option that will be available in Woolworths. Whereas Kehoe's traditional certified organic range in the jars is still available in over 1,000 independents nationwide."
For the future, Kehoe's are looking to expand their range of spreads and products made using 100% Australian ingredients.
K: "Everyone loves our cashew cheese products, but the cashews are imported, whereas our pouches and most of our certified organic products are made from 100% Australian ingredients. Australia just doesn't provide the right climate to grow cashews. So, we'd like to invest in more products that are 100% Australian made."
Look for Kehoe's Kitchen products in your local Woolworths and independent stores.
To learn more about Kehoe's Kitchen and their range of certified organic products, check out their website here.