Recipe by Live Love Nourish
Want an easy dinner that's both healthy and full of flavour? This Lemon & Herb Chicken with Piri Piri Coleslaw & Sweet Potato Chips will soon be a family favourite for a healthy dinner.
The gluten-free, chicken recipe is no-fuss and a crowd-pleaser for the perfect dinner or BBQ with friends and family.
This recipe uses the NEW Cleaver's Organic Chicken Lemon & Herbs which is pre-marinated for an easy and flavourful main dish that saves so much time. The natural flavours that marinate the organic chicken are delicious and free from gluten and preservatives. Simply cook the half chicken in the oven or on the BBQ. Find the Cleaver's Organic range in Coles supermarkets and online.
Pair the herby chicken with Piri Piri spiced coleslaw, baked sweet potato chips and grilled corn. A homemade, healthier version of a popular takeaway meal.
Dietary Notes
This recipe is gluten free, dairy free, nut free and free from preservatives making it an allergy friendly dinner.
Why Choose Certified Organic?
When you choose Certified Organic ingredients, you avoid unwanted and potentially harmful synthetic chemicals such as antibiotics, preservatives, synthetic herbicides, pesticides and other chemicals.
In addition, meat and poultry that is Certified Organic contains no hormones, GMO's and is free-range.
Equally important, Certified Organic means products are produced with sustainability in mind. Namely, the Cleaver's Organic Chicken is a great option to make this Lemon & Herb Chicken with Piri Piri Coleslaw & Sweet Potato Chips.
What's the difference between Organic & Certified Organic?
There is a difference between organic and certified organic products in Australia. For instance, when a food product is classified as 'Certified Organic' they have been rigorously tested through every step of the process, from the farmer's field right up to the store shelf.
Certified Organic products adhere to a strict set of organic standards, such as the Australian Certified Organic Standard.
How to know if something is Certified Organic?
Did you know that currently in Australia there is NO mandatory domestic regulation around the term 'organic' on product labels? In short, this means that a product which as little as 2% organic ingredients can claim organic on its packaging. You can head to the Australian Organic Limited website to find out more about organic brands, the organic industry and how Australian Organic Limited are working to change the legislation around the use of the word "organic" on product packaging.
In brief, to know if something is certified organic, look for the Bud logo. Specifically, this is a small logo found on any food product that reflects the certification, achieved through extensive testing and adheres to strict guidelines from farm to shelf.
Lemon & Herb Chicken & Piri Piri Coleslaw
Course: Dinner
Dietary: Dairy Free, Egg Free, Gluten Free, Grain Free, No Added Sugar, Nut Free
Prep Time: 10 minutes
Cook Time: 30 minutes
Total Time: 40 minutes
Servings: 4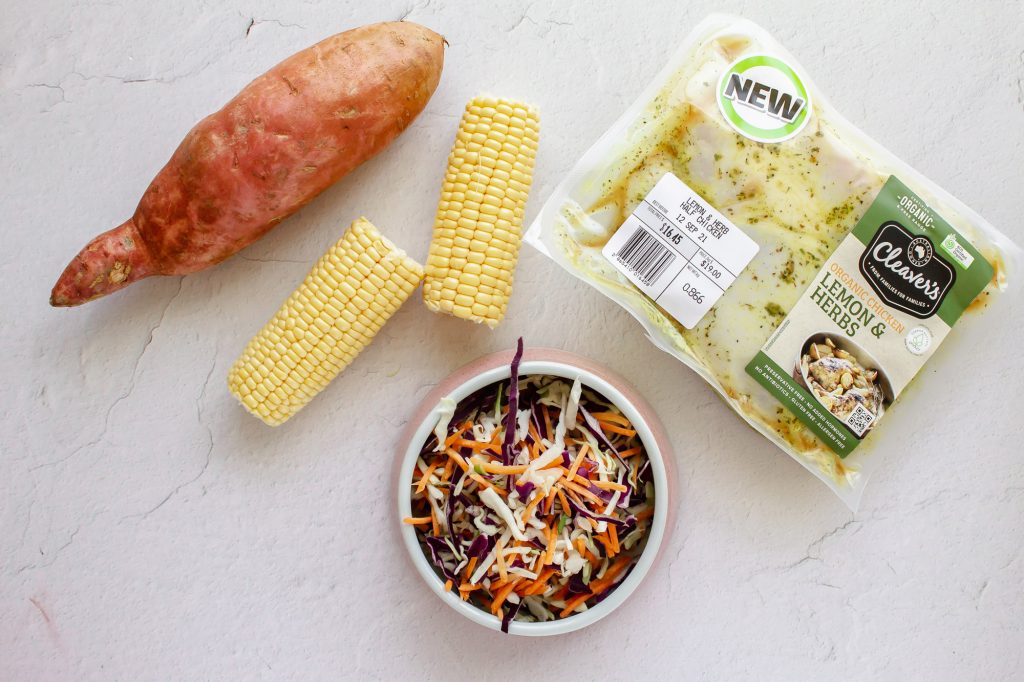 Ingredients
Try to source Certified Organic ingredients where possible!
1 Cleaver's Organic Chicken Lemon & Herbs
Piri Piri Coleslaw
3 cups shredded coleslaw mix
1/4 cup whole mayonnaise
1/2 lemon juiced
1 tsp apple cider vinegar
1/4 tsp smoked paprika
Pinch garlic powder or 1/2 tsp garlic infused olive oil
Pinch chilli powder
Pinch dried oregano
Pinch sea salt
Piri Piri Sweet Potato Chips
2 small or 1 extra large sweet potato
2 tbsp extra virgin olive oil
1 tsp smoked paprika
1/2 tsp garlic powder
1/4 tsp chilli powder
1/4 tsp onion powder
1/4 tsp dried oregano
sea salt & black pepper
Sides
4 corn cobs
2 lemons halved
extra virgin olive oil
sea salt
Instructions
Pre-heat oven to 180°C.
Place chicken onto a deep baking tray and roast for 30 – 35 minutes or until chicken is cooked through and golden on top. Alternatively BBQ grill chicken 10 mins each side or until cooked through.
Prepare piri piri chips. Peel and cut sweet potato to resemble chips. Toss in a generous amount of extra virgin olive oil. Add spices, salt & pepper. Toss to coat. Transfer to baking tray and roast in oven for 20-25 minutes, tossing at half way, until cooked through and golden.
In final 10 minutes of cooking, lightly oil corn cobs with extra virgin olive oil and grill for 3-5 mins, turning regular to char. Place halved lemons cut side down and char to caramelise.
Meanwhile, prepare piri piri coleslaw. Mix mayo with spices, salt & pepper. Add coleslaw mix and mix to combine well. Set aside.
Cut chicken into quarters. Plate up elements to share.
---
Love This Recipe? Share The Love!
Love this recipe? Feel free to share on social media with your friends and family.
This recipe and imagery is copyright by Live Love Nourish and created by nutritionist and recipe developer Casey-Lee Lyons in proud partnership with Bud Organic Club for Australian Organic Awareness Month 2021.