Recipe by Ayla Renham – Fifty Tastes of Food @fifty.tastes.of.food
Let's celebrate Australian Organic Awareness Month with my favourite certified organic product, Jalna Farm to Pot Organic Greek Yoghurt. Australian Organic Awareness Month (AOAM) is the nation's largest campaign promoting the certified organic industry in Australia.
I never compromise on quality and using certified organic ingredients is the way to go!
Jalna Farm to Pot Organic Greek Yoghurt is made with whole milk from Certified Organic Australian dairy farms and poured directly into pots. It is as pure as it can be, free from any nasties and deliciously creamy! Trust me, once you start choosing organic products you won't go back.
I always look for the BUD certification logo on organic products, and the products in this recipe are easily available at your local supermarket. I hope you enjoy this delicious and super moist Greek Yoghurt Loaf!
Ingredients
2 certified organic eggs
1/2 cup extra virgin olive oil
1/2 cup brown sugar
2 cups wholemeal flour
2 tsp baking powder
Dash of vanilla essence
Pinch of salt
1/3 cup chocolate chips
Method:
Preheat the oven to 175 degrees celsius.
Grease a loaf pan with olive oil and line with baking paper. Set aside.
Whisk together eggs and brown sugar in a mixing bowl and then add olive oil and vanilla essence. Whisk again.
Add the organic greek yoghurt and whisk until smooth.
In another bowl, mix together flour, baking powder and salt and add it to the wet ingredients.
Mix to combine using a spatula. Now add in chocolate chips but be careful not over mix.
Move the batter to the loaf pan and bake for about 45 to 50 minutes or until a toothpick comes out clean.
When baked, remove from the oven and let it cool before serving.
Enjoy!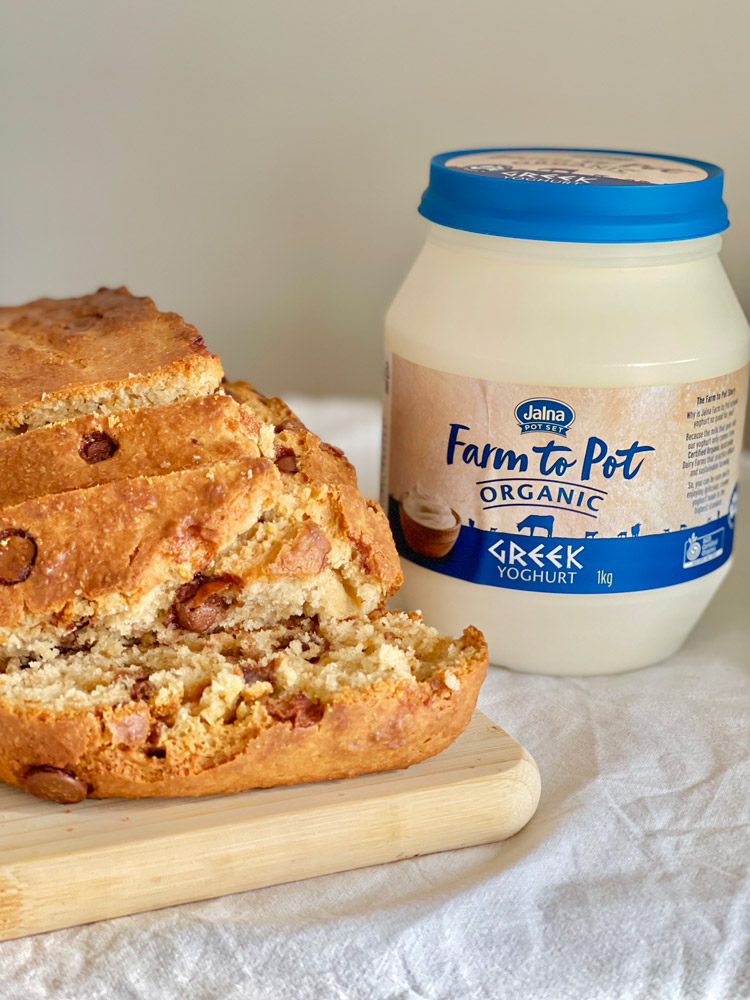 About Ayla Rehman – Fifty Tastes of Food
I'm a Melbourne based Pakistani mother of two and living in Australia. Cooking is my passion and I'm a devoted foodie at heart. I'd love to see each one of you enjoy my recipes and spread joy! Here's to fun, easy and quick recipes for your family and yourself to enjoy! Love, Ayla.
---
Want more recipes like this? Sign up to Bud Organic Club for free here and get them delivered straight to your inbox!