You may be wondering, what's in season this November? Well, we have an insider that works in the industry that has told us everything that is growing and slowing this month.
Seasonal Fruit
Australian fruit loves the heat that spring/summer bring, so November is perfect for all our favourite fruits bringing greater supply, and quality yet lower prices!!
You may have seen mangoes making their way into the markets and supermarkets from the Northern Territory. But mid-November should bring in (our personal favourite) Queensland mangoes with great quality and prices. We may be a little biased, but we are excited to have the first taste of Queensland mangoes!!
More spring/summer classics will continue to increase in availability and quality throughout the coming months. This includes watermelons, rockmelons, blueberries, avocadoes, bananas, papaya and oranges.
Strawberries have finished growing in Queensland, but supply from Victoria should keep up with demand through Summer.
Apples have had a great season so far, with improvements to storage processes, we should still be able to enjoy them until late January. Along with apples, one of the stars of summer, stone fruit, will start to make an appearance in mid-November. After 2 difficult years, there is hope that the warm weather will bring them back onto our shelves. Nectarines and peaches will be the first to make an appearance, followed by cherries, apricots and plums later in the month.
It is very exciting to have a wide variety of fruit available to us again and we look forward to the many fruit platters! However, the same cannot be said for veggies.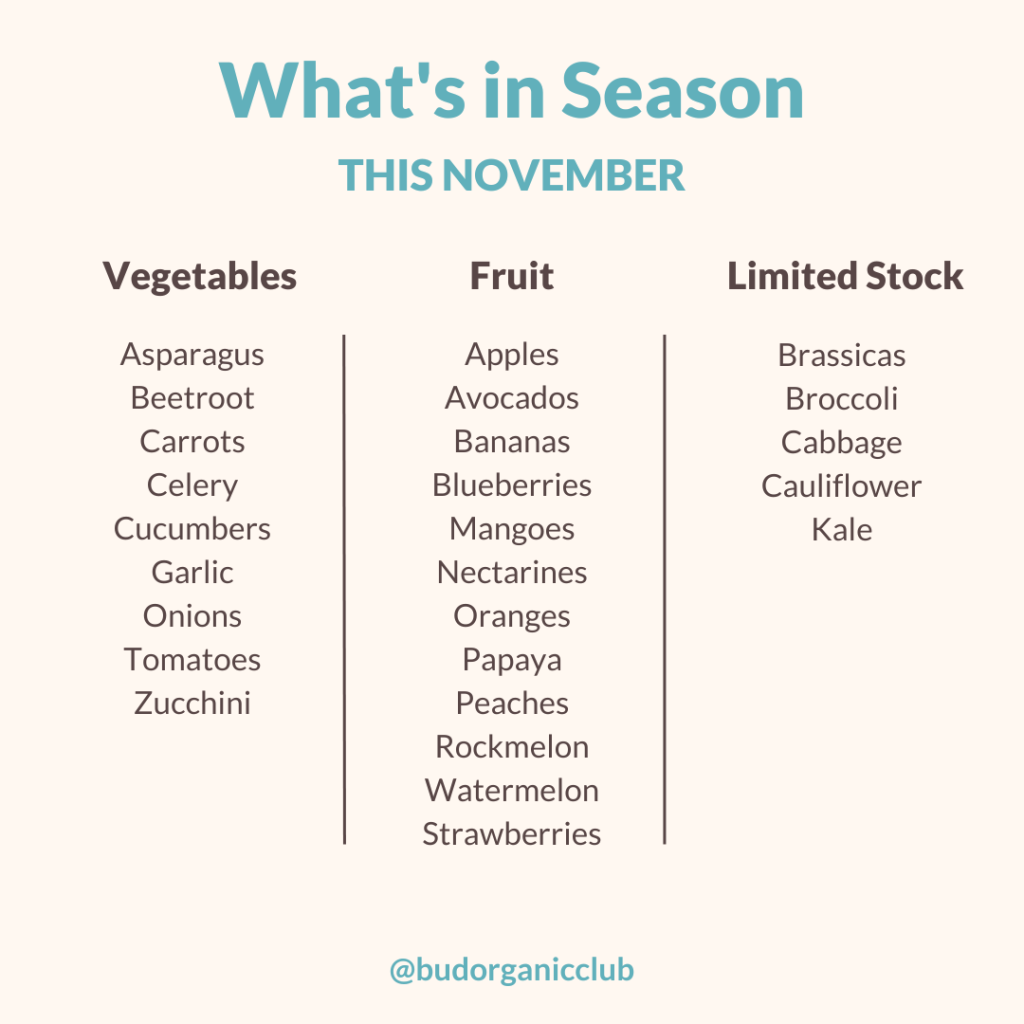 Seasonal Vegetables
While the warm weather is perfect for fruit, it is not so kind to vegetables. But let's start with the good news and see what veggies do enjoy the warm weather.
Asparagus and carrots are currently in full swing; low prices, high quality and availability, are coming from Queensland and Tasmania. This is also along with celery, beetroot, garlic (and despite debates on if these are fruits or veggies), cucumbers, tomatoes and zucchini. There is also usually, a good supply of onions coming from Queensland around this time of year.
But now for the not so good news…
Broccoli and cauliflower are both low in supply but high in demand, and this is naturally driving the prices higher. It is, however, expected that the southern crop will bring in some cauliflower towards next month.
Brassicas are also in short supply. This is normal, due to the transitional period when the northern regions finish, and the south is due to start. Occasionally, there is an overlap when the Queensland season goes long, and the Southern guys start early. We like those years, as there is plenty of supply and low prices. But 2023 is NOT one of those years.
Other veggies that aren't coping with the heat are cabbage and kale. Although potatoes, sweet potatoes and pumpkin are currently short in supply, they should become more accessible by end of November. Prices should also see a decrease as farmers begin to grow this crop more often.
Happy Spring and remember to eat all of your colours.
The Team at United Organics

Image: The Diggers Club