Organic and Biodynamic Viticulture
Winemaking is the process in which wine grapes are turned into wine. But not all wine is made equal.
Organic wine is made with organic grapes. Organic grape-growing and winemaking does not involve the use of synthetic pesticides, herbicides, fungicides or fertilisers.
Organic wine should be made with high quality grapes and few other ingredients. The farming, production and processing of the grapes should have minimal effect on the land, with no synthetic chemicals, recycling of waste and water where possible, maintaining and improving the soil, and encouraging a better environment for native plants and wildlife.
Organic wine is often the best 'expression' or best representation of both the grape and the 'terroir' – the land and environment in which it is grown.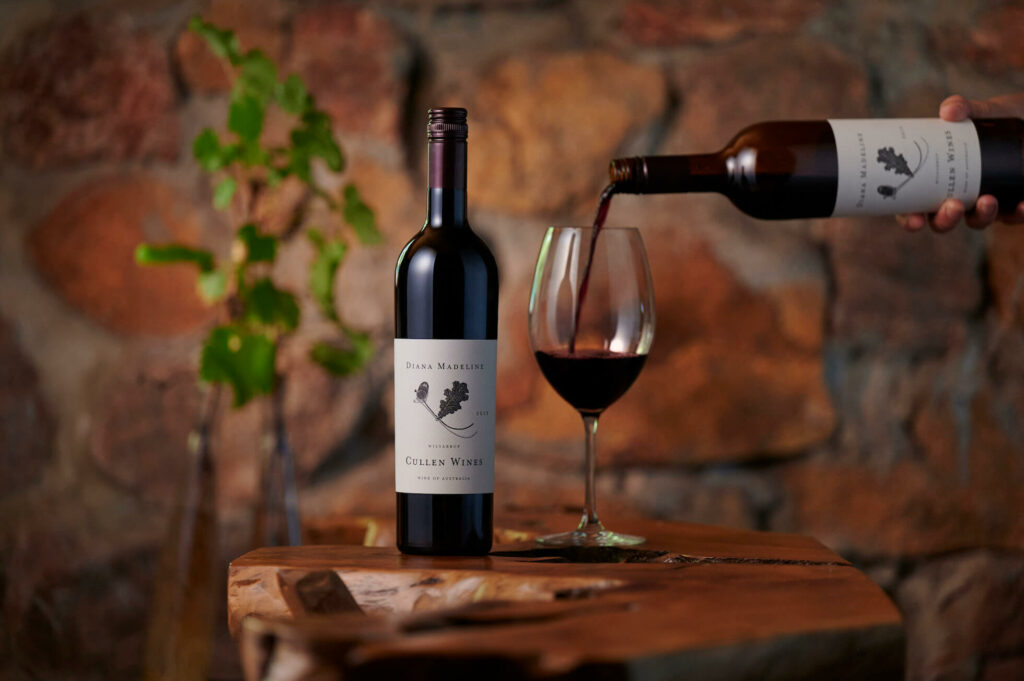 Organic Wine Production
Organic grapes should be grown using organic farming principles, with priority placed on the improvement and protection of soil. To prevent soil erosion and to promote soil health, organic vineyards should aim to have 70% soil coverage (through either pasture, residues or crops) all year round.
The practices of cover cropping, companion planting, mixed cropping and creating wildlife refuges create a diverse ecosystem within the soil – encouraging bugs, insects, and adding vital minerals and nutrients back into the soil, which benefit both the surrounding environment and the growing grape vines.
Instead of using synthetic herbicides and pesticides, organic vineyards are encouraged to use other techniques such as companion planting and natural pest control methods. Many vineyards use manual labour to pull unruly weeds and maintain grape vines, and others use animals such as sheep and Indian Runner Ducks to keep weeds and pests at bay.
Using organic principles, organic vineyards can become self-regulating, natural ecosystems.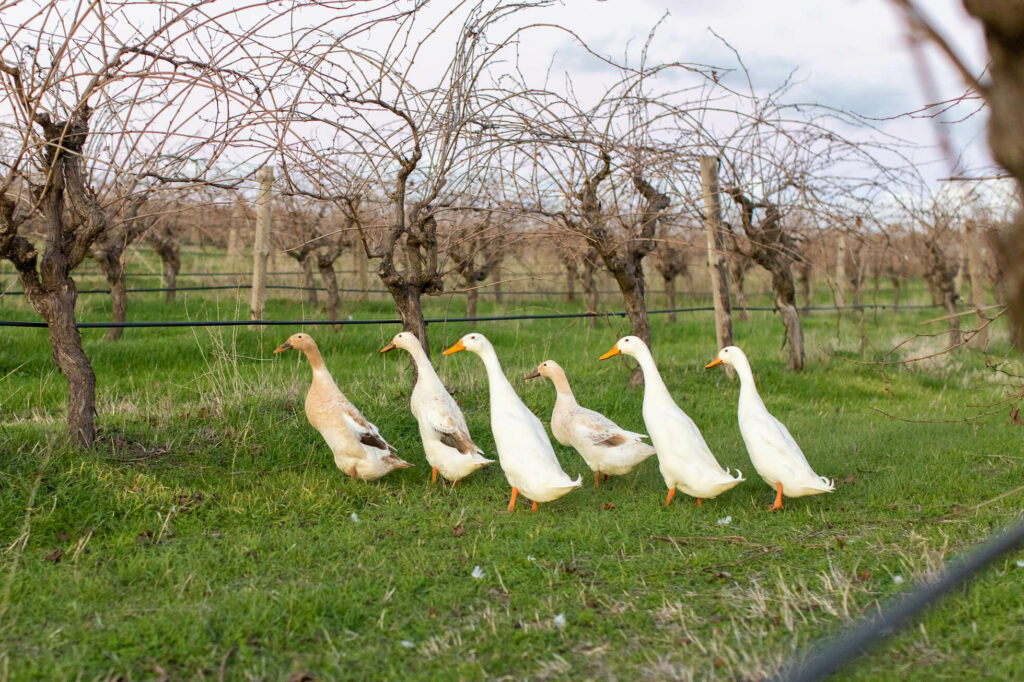 Organic Wine Processing
There are far fewer allowed inputs for organic wine compared to conventional wine. However, winemakers still require some additional ingredients to complete the grape fermentation process and mature their wines.
Sulphur dioxide is commonly used for this purpose as well as acting as a preservative. However, it is restricted to half the amount usually allowed in conventional wine, and many organic winemakers use only minimal amounts of sulphur dioxide in their wines.
Grapes naturally produce varying amounts of sulphur dioxide as part of the fermentation process. Preservative-free organic wine, or 'natural' organic wine, does not contain additional sulphur dioxide. Reduced sulphur dioxide content in wine has also been shown to lessen hangovers, so keep drinking organic!
Bottling and production facilities can also gain organic certification to ensure the organic wines they process maintain their own certification standards. These facilities often process certified organic wine at the beginning of the day, thoroughly cleaning all pipes, vessels and bottles to ensure no cross-contamination occurs with non-organic or non-certified products.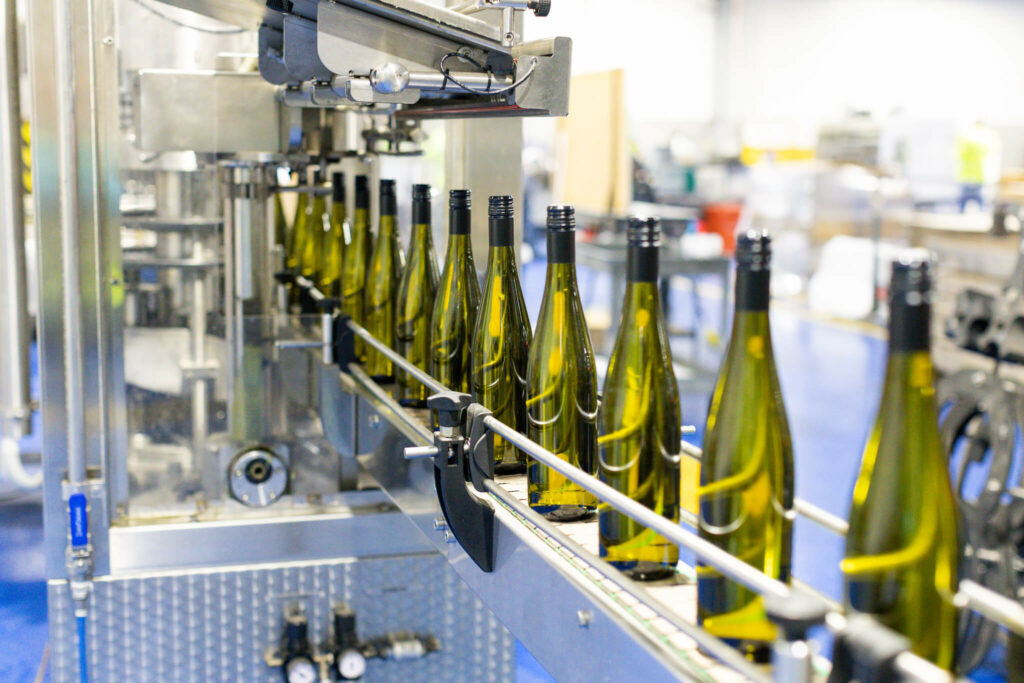 Health Benefits
Organic winemakers are encouraged to keep their vines in optimum health to minimise plant disease and therefore minimise the need for natural herbicides or fungicides. This means that organic wine grapes have heartier skins and higher concentrations of beneficial health properties such as antioxidants, vitamins and minerals. Organic wines are also free from chemicals found in conventional farming such as synthetic pesticides and herbicides. Did we mention the better hangovers?!
Biodynamic Wine
To create biodynamic wine, there are additional requirements that need to be fulfilled on top of certified organic requirements. Biodynamic winemaking should limit the number of external inputs required on the vineyard (such as fertilisers and manures), to eventually create a closed-loop or self-sustaining ecological system. The aim is to eliminate all brought-in composted materials onto the farm by the time that full biodynamic certification has been achieved.
In biodynamic winemaking, the use of biodynamic compost is essential for soil and vine health. Several preparations are used for different purposes and must be prepared correctly and applied at certain times. The most important of these is horn manure (Preparation 500), which full of beneficial microbes and is spread on the land annually.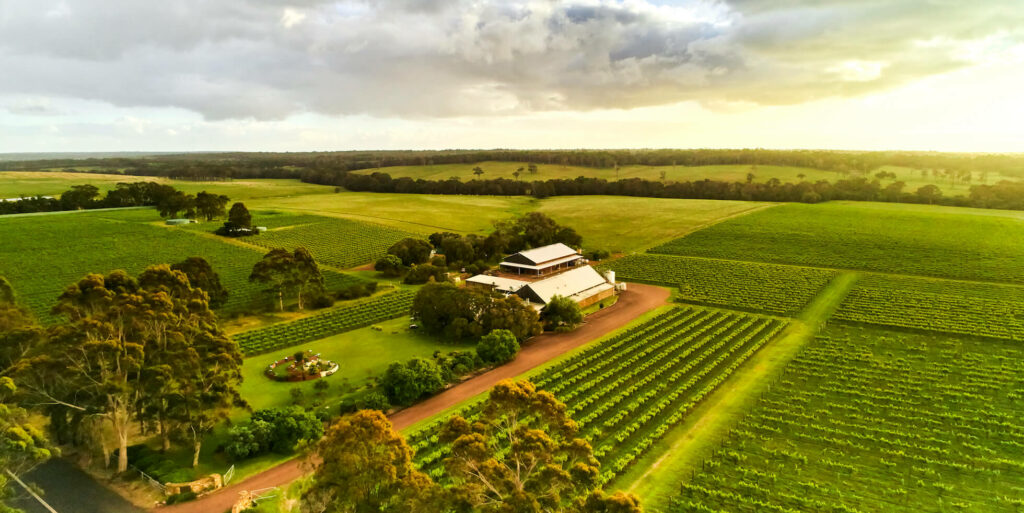 In-Conversion Organic Wines
Depending on the chemical usage history of the vineyard, it can take vineyards between 1-3 years to become fully certified organic. Vignerons can sell in-conversion organic wine which indicates they are fulfilling all the production requirements of certified organic but have not yet completed the full certification process. In-conversion wines carry an in-conversion organic certification mark. Once the vineyard is fully certified, they can begin to use a standard certification logo on bottle labels.
Why Choose Organic?
Organic wine may lessen hangovers, contain fewer synthetic chemicals, can be higher in antioxidants, and is better for the environment. Now is the perfect time to try organic wine!
Remember to look for a certification mark such as the Australian Certified Organic Bud logo to ensure your organic wine is authentically organic.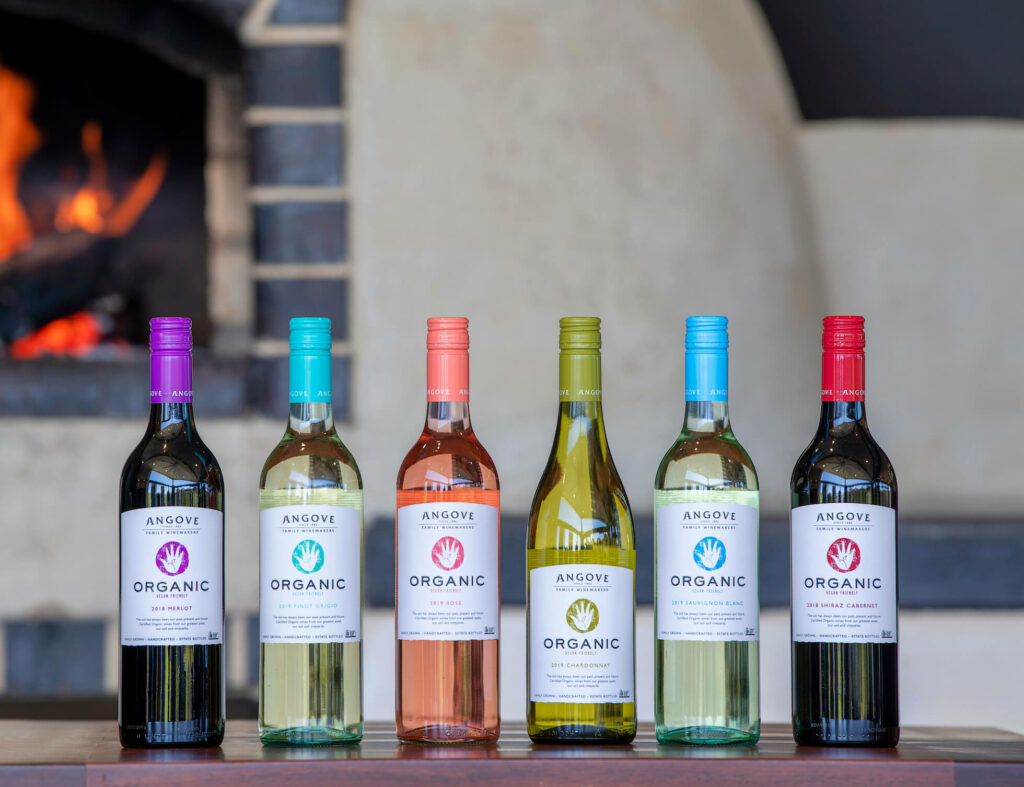 Organic Wine Glossary
Terroir: Environmental factors that affect the quality of grapes and wine.
Vigneron: A person who cultivates a vineyard and grapes for winemaking. A vigneron may also be a vintner or viticulturist.
Viniculture: Winemaking and the art or science of making wine. Also called enology or oenology.
Vinification: The process of making wine.
Vintner: A wine merchant or a person who sells wine. A vintner may also be a winemaker.
Viticulture: Winegrowing and the cultivation and harvesting of grapes.
Viticulturist: A person who specialises in viticulture or winegrowing.
Want to learn more?
Check out these other articles: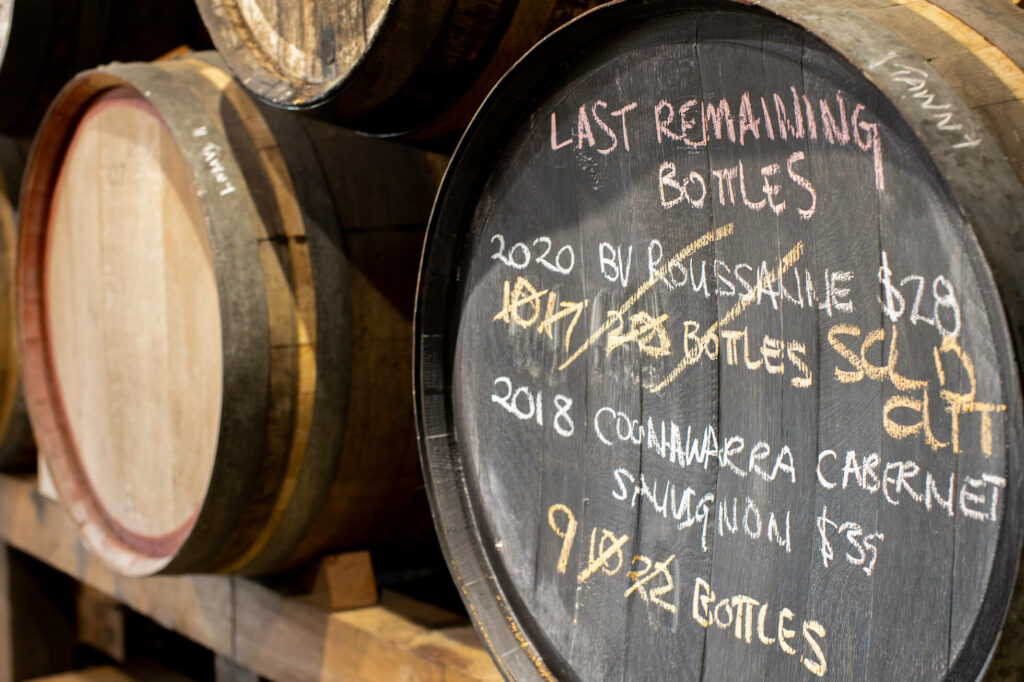 Image credits – Images 2 and 5 – Cullen Family wines, Image 6 – Angove Family Winemakers.
All other images by Louise Wright.