There's plenty of fresh, organic in season fruit and veg this month!
Fruits
April is all about Apples and Pears of almost every variety from every region across Australia. They are in plentiful supply and at peak quality.
Pink Lady Apples and Golden Delicious are two more varieties to add to an already impressive selection.
For Pears, Ya, Red Corella, Packham, Clapps, Nashi and brown-skinned Buerre Bosc are all available. This time of year we are a big fan of an organic Rocket and Red Pear salad with walnuts and parmesan!
Grapes are readily available, however, some of the early season varieties will be finishing soon due to a shorter season – so enjoy them while you can!
Other highlights in the fruit basket are Plums and Citrus, with plenty around. Beautiful Tasmanian Blueberries (some the size of grapes!) are magnificent. If you're after citrus, there are lots of Lemons and Limes in stores. Grapefruit have been a little slow to ripen, but should be in good supply early April, alongside a good supply of Papaya and Dragon Fruit.
Strawberries are expected to be short due to increased rainfalls, so grab a few last reminders of summer while you can!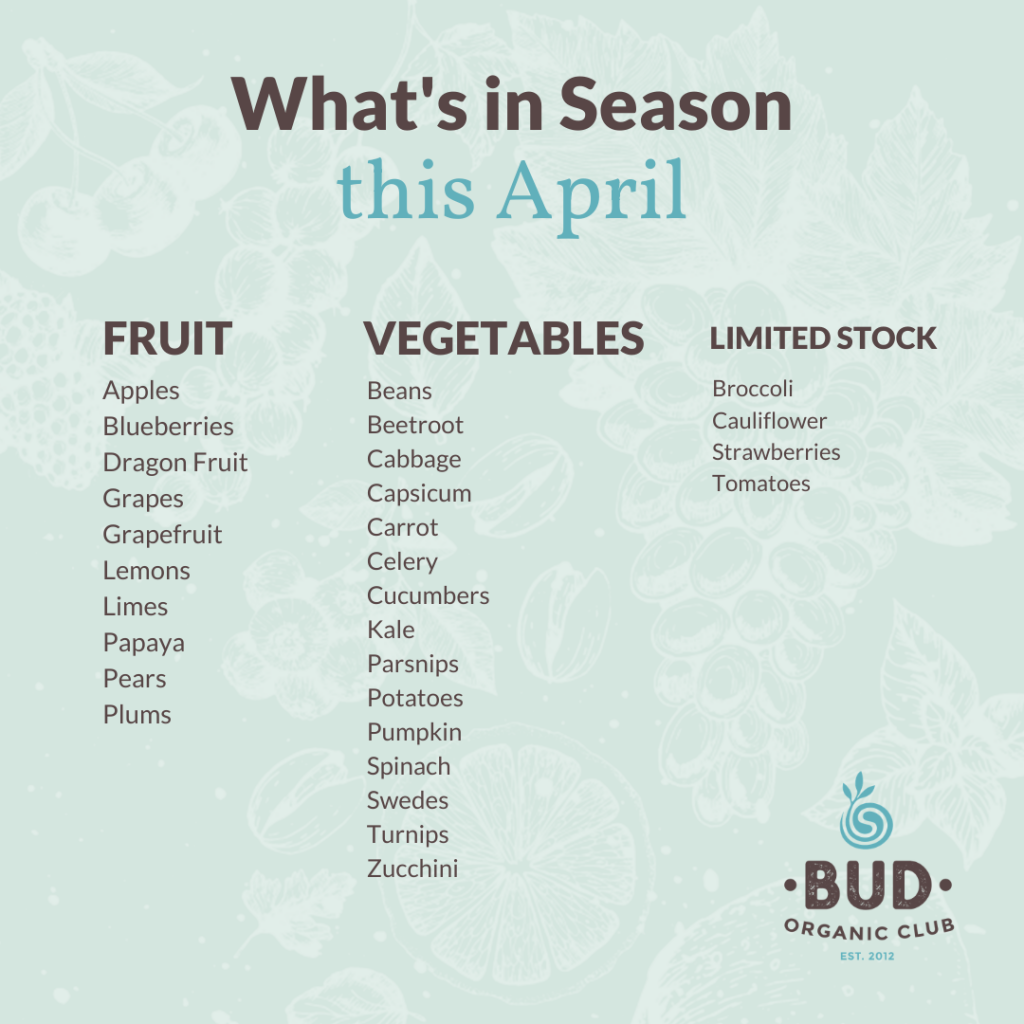 Vegetables
We hope you love Celery because Celery gets on honourable mention – there is so much of it around, at unprecedented prices! If in doubt, buy Celery.
Broccoli looks to be shortening up early this month but will improve closer to May – so grab it while you can at the start of April.
Spinach and Cavolo Kale have been a little short due to the wet weather, however both should be available in the first week of April – so keep an eye out for them in stores soon.
Lots of Capsicums, Cucumbers, Zucchini, Cabbage and Beans are currently available. There is also a good supply of Pumpkin at good prices.
All salad varieties are currently well supplied from several regions, and Beetroot and Potatoes are coming out of Victoria and Tasmania. Tomatoes traditionally get a little short in supply at this time of year, as does Cauliflower however both will improve as the month progresses.
For Autumn root vegetables there are good stocks of Carrots, Swedes and Turnips. Parsnips should make an appearance in a week or so also.
Essentially April brings an abundance of produce, good quality and good pricing! So, enjoy the start of the cooler weather and remember to eat all of your colours.
The Team at United Organics