Historically, this time of year is a bit tricky to predict, that is not the case this year. Most of the country has been cold and wet. Crops have either finished early or started late – sometimes both. To add to this, the ground needs to be dry enough for machinery to be able to harvest. November 2021 has been one of the coldest, wettest Summer months in history. The impact of which will certainly be felt well into December. The cold wet weather has forced Queensland growers to finish up weeks earlier than they would normally. Similar conditions in southern states means that these growers are around one month behind. Everything is short and expensive, and the quality of the produce has also suffered.
Fruits
Cherries have started as have Mangoes, but this has not been a great year for mangoes with most growers reporting significantly lower yields. Nectarines, Peaches and Plums started late, with lighter crops.
North Queensland fruit is holding up pretty well, and we are seeing a good supply of Red Papaya, Rockmelon and Honeydew. Grapes should make an appearance early in the month. Apples are still in good supply, but they are coming out of storage and are predicted to finish before Christmas. New-season Apples will start mid to late January.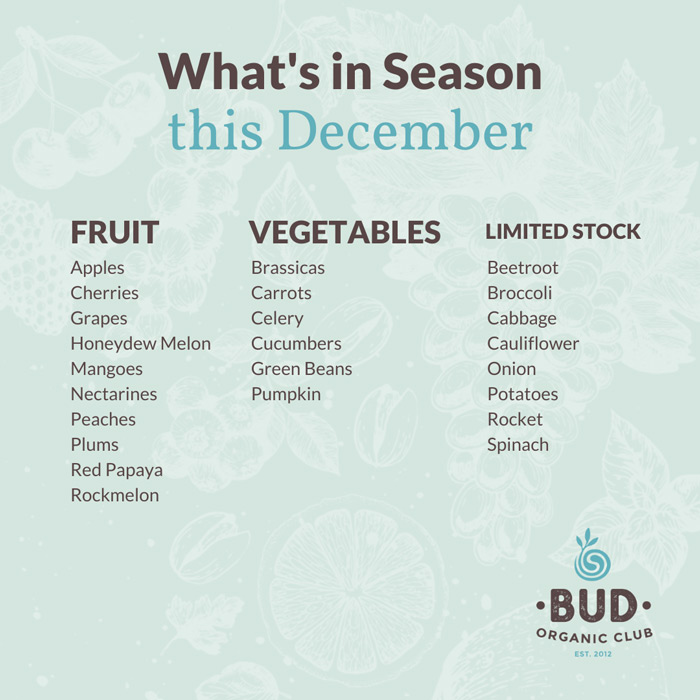 Vegetables
Vegetables have a short story this month. They will be short in supply and poor in quality. Cabbage, Cauliflower, Broccoli are all in short supply. Veg like Carrots, Pumpkin and Celery were not in short supply, but are inaccessible to harvest with the muddy fields – meaning they are likely to be in short supply also.
Potatoes, Salad vegetables and Onions are also short in supply. The quality of salad vegetables has been impacted by the wet, cold weather. Items like Spinach and Rocket are prone to mildew outbreaks in these conditions.
The good news is that things will improve as the month progresses and gets warmer and drier. South Australian Celery is ready to go and plentiful, with just a few dry days needed to harvest it. Tasmanian and Victorian growers are also well-positioned and will be supplying Carrots and Brassicas ready for the festive season as soon as they get a few clear days.

Beetroot is also short and at record prices. Green beans and Cucumbers may be the only two vegetables that are currently in high supply.
Support Local Organic Producers
It may not be a great December for fresh organic produce, and 2021 has been a difficult year for our producers, so make sure you support them as much as you can by buying fresh, local Australian organic produce this month.
Remember to eat all of your colours and have a great Christmas.
The Team at United Organics

Images: Shutterstock