What's growing and slowing in February 2023?
It's the last month of a cooler-than-average summer, which equates to a short season with early finishes and late starts.
Fruit
New-season organic apples are finally here! We have some heirloom variety galas and expect the royal galas to be in abundance around the second week of February. Pears will start around the same time with clapp and williams, the red varieties will start towards the end of the month.
Victorian green and red seedless grapes were a little late but have finally arrived, as have strawberries with fresh punnets from Stanthorpe and Daylesford. Tasmanian and Victorian blueberries are also in good supply and at record-low prices in the first week.
For your citrus selection, far North Queensland green-skinned meyer lemons are in. There is also plenty of limes coming from the same area at better prices and quantities than we would normally see. Valencia oranges, ruby, and yellow grapefruit are also in good supply, but the quality has suffered a little with the rain.
In terms of stone fruit, it has been a difficult year – particularly for nectarines and peaches. It has been wet and cold in the major stone fruit growing areas; therefore, supply and quality have been adversely impacted. Plums have fared a little better, with lots of varieties to choose from, and they should stay available throughout the month.
Nashi pears and pineapples are in good supply, along with rockmelons and watermelons, though it might be your last chance for fresh mangoes so get them while they're good!
Lychees are a little harder to get this year and have had a shorter season, so if you spot some, make sure you enjoy them!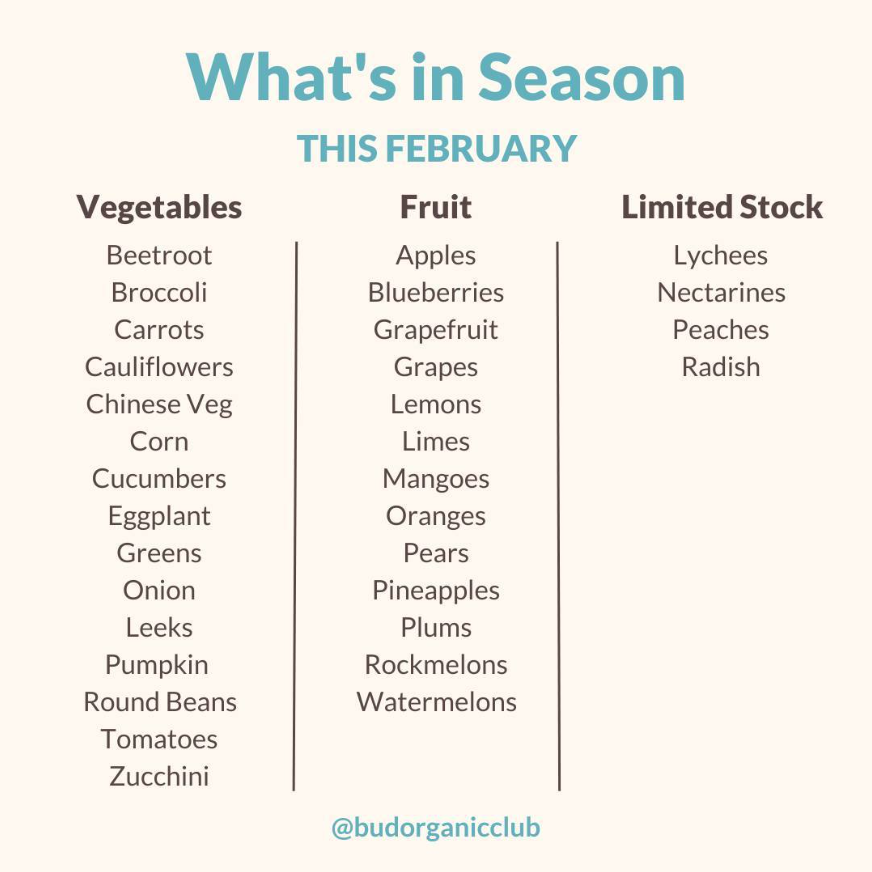 Vegetables
There's a wide variety of vegetables available this month, so there's no excuse not to get your 5 a day!
Beetroot, broccoli, carrots, and cabbage are in good supply and cauliflowers are now much better in quality and quantity. Red capsicums are a little short but there are plenty of green and mixed coloured around so you should not miss out. Cucumbers are in good supply, with both Lebanese and green coming from multiple growers in multiple regions. Round beans both hand and machine picked have had a better run than last year and are in good supply and at good prices.
It has been a bumper season for corn, there is an oversupply and really good prices and quality. All salad mixes and lettuce are back in and at full supply. Victorian brown and red onion have started, and Queensland onions should finish in the first week or so. However, European radish is in short supply this year.
Chinese vegetables, leeks, zucchini, brown onions, pumpkin, and new-season potatoes are ready to go. We highly recommend the smaller kipfler potatoes, these are great for salads and roasting. Note that all potato varieties will be short and expensive for most of the southern season.
Eggplants are finally available again and prices should come down in the coming weeks as supply becomes more plentiful. Silverbeet and rainbow chard are in great supply and make a colourful addition to the dinner table.
Celery has been very hard to get in December and January but there are a couple of growers coming in early February. Tomatoes have had a much better season this year, supply is high, and prices are low. We expect that will remain so for the whole of February.
Overall, variety is steadily improving so there's no excuse not to pack healthy lunchboxes for back to school and back to work!
Enjoy February and remember to eat all of your colours.
The Team at United Organics

Image: The Diggers Club