Welcome to 2022! Summer is in full swing so let's find out what's organic and in season this month.
Fruits
The big news in the fruit world is new season Apples will start in January. The apple season will kick off with early varieties Gala and Pink Lady. There will still be some Tasmanian fruit in the market as well, but it will be last season's coming out of controlled atmosphere cold rooms.
Stone fruit will still be in full swing this month. Expect good supplies of Nectarines, Peaches, multiple Plum varieties and Cherries. Organic Apricots have a short season and are usually done and dusted by the month's end, so grab them while you can!
Papaya, Melons, Bananas, Passionfruit and Pineapple will all be in good supply, as will several types of table Grapes. Figs will be back and Pomegranates may make an appearance towards the end of the month too.
Citrus. Lemons, Limes and Grapefruit will be short in supply and expensive. That said, we have had a very wet Christmas and New Year period, so that will also have a negative impact on some fruit and veg supply. Organic Mangoes have had a smaller crop this year, but supply should be good through to February.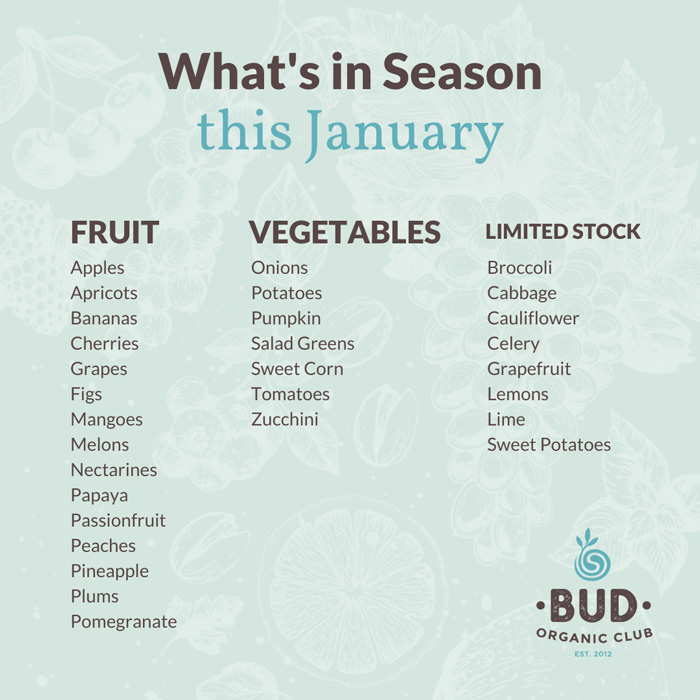 Vegetables
Expect all your Brassicas to be smaller, weather-affected and expensive this month, at least until things start to cool down. Queensland growers have finished early, with the unseasonal cold and wet; the Southerners have started later for the same reasons.
Traditionally, Cauliflower is the worst offender, but Broccoli and Cabbage won't be far behind. Celery is another vegetable that does not fare well during the hotter seasons. Expect Celery quality and size to be poor, but pricing to be up.
Potatoes can sometimes get a little tight, and many potato crops have been weather-affected. Sweet Potato is always short at this time of year, we see no reason why 2022 will be different.
There's lots of Salad Greens coming out of the Southern States, and a constant supply of hard vegetables like Onions, Pumpkins and White Potatoes. Zucchini, Tomatoes and Sweet Corn will be available.
Support Local Organic Producers
The beginning of 2022 is still suffering from the tough climate of 2021. Staff shortages, freight issues, extreme weather and, of course, the pandemic have given the new year a bit of a false start, but things will improve with time.
And while we wait, let's keep supporting our local organic producers, who, despite it all, are continuing to provide delicious, nutritious and organic food onto our tables and into our bellies.
Enjoy your holidays and eat all your colours!
The Team at United Organics

Images: Shutterstock