It feels crazy typing 2021, but like everyone else in the world, we are happy to have 2020 behind us.
Fruits
The big news in the fruit world is new season apples out of South Australia will start towards the end of the month. Look out for early varieties like Gala and Pink Lady. There will still be some Tasmanian fruit in the market, but it will mostly be last season's stores coming out of cold rooms.
Stone fruit will still be in full swing. Expect good supplies of Nectarines, Peaches, multiple Plum varieties and Cherries. Organic Apricots have a short season and are usually done and dusted by the month's end, so grab them while you can!
Papaya, Melons, Bananas, Passionfruit and Pineapple will all be in good supply, as will several types of table Grapes.
Fruit shortages will mainly be Citrus. Lemons, Limes and Grapefruit will be short and expensive. Valencia Oranges will be mid-season and around usually till May-June.
Organic Mangoes have had a smaller crop this year, but supply should be good through to February.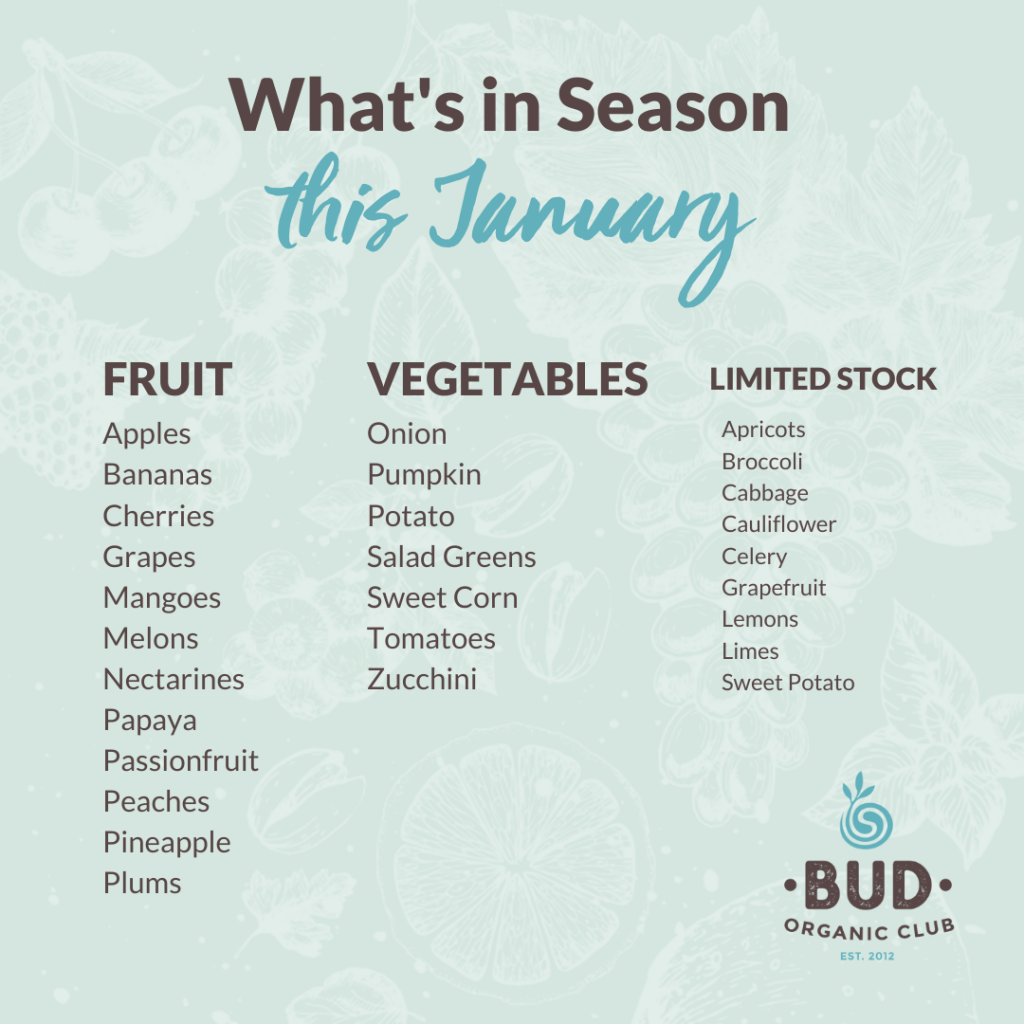 Vegetables
It is easier to talk about what gets short with Vegetables in the warmer months. Expect all your Brassicas to be smaller, weather effected and expensive, at least until things start to cool down.
Traditionally, Cauliflower is the worst offender, but Broccoli and Cabbage won't be far behind. Celery is another vegetable that does not fare well during the hotter seasons. Expect Celery quality and sizing to be down, but pricing to be up.
Potatoes can sometimes get a little tight, but we are hearing nothing from our growers to suggest that we will have a problem this year. That said, Sweet Potato is definitely short!
There's lots of Salad Greens coming out of the Southern States, and a constant supply of the hard vegetables like Onions, Pumpkin and White Potato. Zucchini, Tomatoes and Sweet Corn will be available.
Kale and Silverbeet can sometimes tighten up if we get a hotter and drier average for early summer. So, keep an eye on these.
In summary, January is shaping up to look pretty good for fresh organic produce! Continue to enjoy your holidays and remember to eat all your colours!
The Team at United Organics