It's officially winter! Let's find out what's in season this month!
Fruit
Winter fruits are all about the basics – rather than enjoying loads of variety, enjoy the quality and consistency of the basics such as apples and citrus.
This is the best time of year to eat a truly spectacular apple and you have so many varieties to choose from. Pears are the same, take the time to savour the ordinary and enjoy them.
Lemons are coming on strong, mandarins have just started, expect to see Imperials and Daisy in stores. Navel oranges are plentiful, Cara Cara or Blood Oranges will be little later this year. You can also expect to see the beginning of tangelos and pomelos in June. Limes are in full swing, great quality and at low prices. Ruby grapefruit are also in good supply.
Queensland strawberries are off to a slow start, as May has been cooler and wetter than average. Expect quality to improve and prices to become more affordable as the month progresses. Availability of rockmelon and watermelon out of North Queensland will also get better throughout the month. Papaya is flushing from Cooktown, the market is over supplied and priced accordingly. Light numbers of red and white dragonfruit are also hitting the market.
June will have a variety of fruits around and they will be good quality, but understand that winter is all about the vegetables!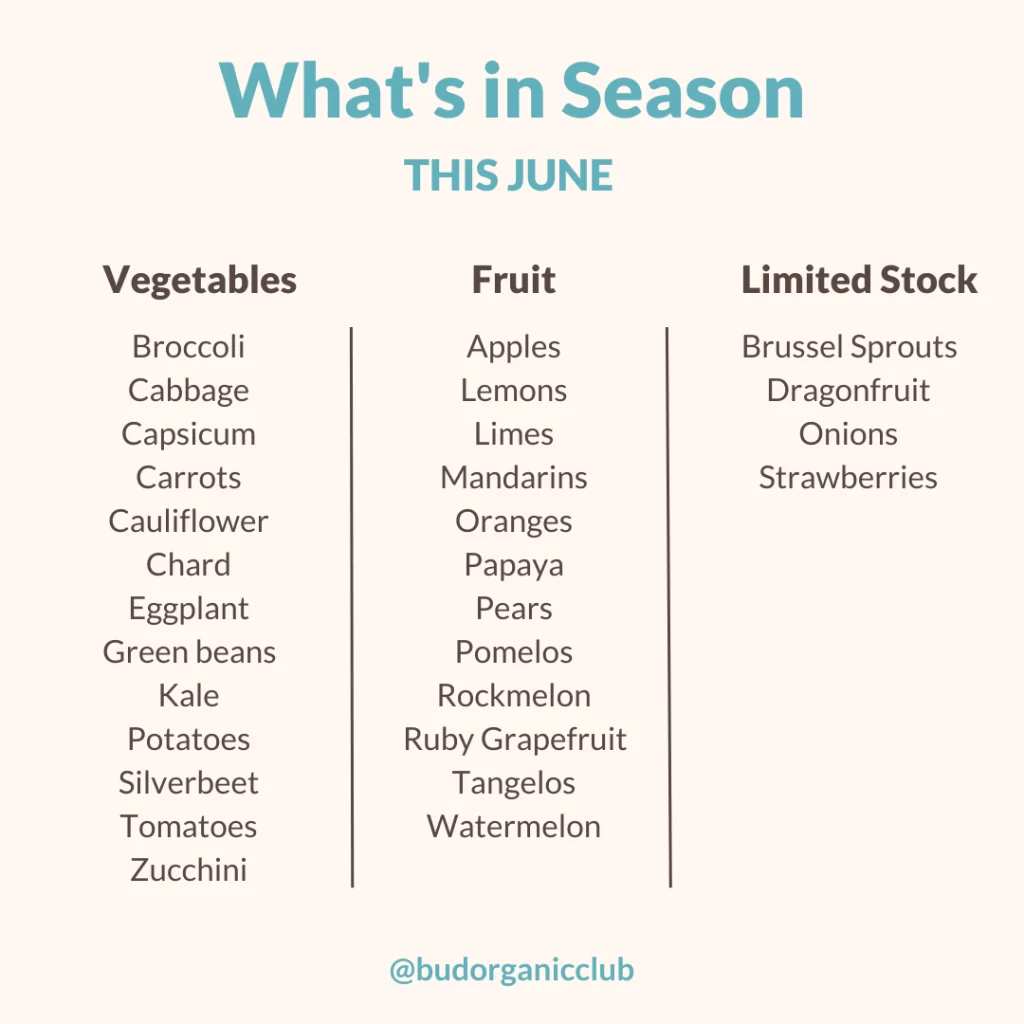 Vegetables
Winter is peak vegetable growing season for Queensland, with all of the brassicas coming out of the Brisbane and Lockyer Valley areas. Expect to see great quality cabbages, broccoli, and cauliflower, all at good prices.
Brussel sprouts are in lesser numbers than previous years, expect a shorter season and higher prices. Leafy greens like kale, silverbeet and chard are plentiful and coming out of multiple regions.
Queensland carrots are coming in later this year, but there is good supply out of Victoria and Tasmania. Local potatoes will start by mid-June, with some of the southern growers starting to slow down, already we are seeing shortages in some of the varieties. Tomatoes from North Queensland have started which is positive as they have been short for a while. Eggplant, zucchini and capsicum have all had slower starts to the season, with the cooler than average temperatures. Expect them to ramp up as the month progresses.
Southern onions are starting to slow down and the Queensland growers are a while from starting, so expect prices to increase and quality to drop. Yes, unfortunately you did read that right, expect to pay more for something not as good.
Short story is in June we are spoilt for choice when it comes to vegetables. Why not try something new or revisit a classic – you might be surprised by just how good Brussels sprouts taste. Cast iron skillet, with butter and a splash of maple syrup, slightly charred … delicious!
As for the fruits, get creative with new varieties of apples or citrus, or give old school recipes a second chance.
Enjoy the cooler weather in June and remember to eat all of your colours.
The Team at United Organics

Image: The Diggers Club