It's officially winter, so let's find out what's in season this month!
Fruits
Winter fruits are all about the basics – rather than enjoying lots of variety, enjoy the quality and consistency of the basics such as Apples and Citrus.
This is the best time of year to eat a truly spectacular Apple and you have so many varieties to choose from. Pears are the same, take the time to saviour the ordinary and get creative with them.
If you're looking for ideas – why not use Pears in your salads and Apples in your baking. Perhaps even go old school nostalgic and discover why home-made apple pies are a timeless classic – don't forget a scoop of certified organic vanilla ice cream on the side!
When we think of winter, we think of Citrus fruits and there are a few things to get excited about at this time of year. Lemons, Mandarins, Navel and Blood Oranges are plentiful. You can also expect to see the beginning of Tangelos and Pomelos this month also.
Aside from citrus, Queensland Strawberries will also hit their stride in June. Expect quality to improve and prices to become more affordable as the month progresses. Availability of Rockmelon, Watermelon and Papaya out of North Queensland will also get better throughout the month.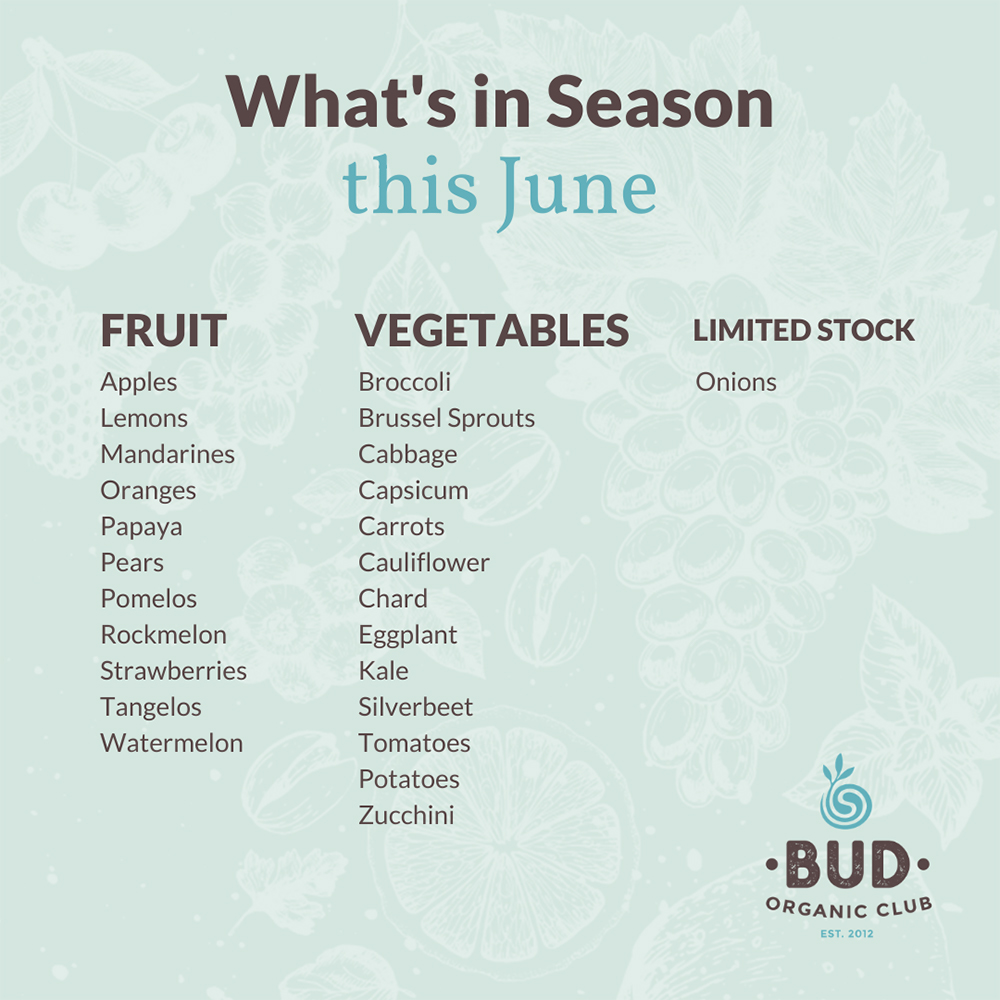 Vegetables
Winter is peak vegetable growing season for Queensland, with all of the Brassicas coming out of the Brisbane and Lockyer Valley areas. Expect to see great quality Cabbages, Brussel Sprouts, Broccoli, and Cauliflower, all at good prices. Leafy greens like Kale, Silverbeet and Chard will also be plentiful.
Queensland Carrots and Potatoes will start by mid-June, with some of the southern growers starting to slow down. Tomatoes from North Queensland have started, as have Eggplant, Zucchini and Capsicum.
At the start of the month Capsicum and Tomatoes will still be a little light on in terms of availability, but quantity and quality will increase as the month progresses. In terms of other items in lower supply, Southern Onions are starting to slow down, so expect prices to increase and quality to drop.
Short story is – at this time of year we are spoilt for choice when it comes to vegetables. Why not try something new or revisit a classic – you might be surprised by just how good Brussel Sprouts taste!
As for the fruits, get creative with new varieties of Apples or Citrus, or give old school recipes a second chance.
Enjoy the cooler weather in June and remember to eat all of your colours.
The Team at United Organics