Autumn is here and it's normally a fantastic time of year for harvesting fruit and veggies, with lots to choose from at your local market. However, 2022 has already proved very challenging to a lot of growers across multiple regions and sectors.
Fruit
A good variety of red Apples are available now, including a couple of heirloom varieties as well as the more traditional; Galas, Fuji and Granny Smith.
Pears have kicked off their season as well, with Williams, Clapps, Packham and the brown skinned Buerre Bosc. Nashi's also started last month and will be with us, well into winter.
Avocadoes have two main varieties available at this time of year. Hass (lumpy dark skin when ripe and creamy in texture) and Shepard (smooth green skin doesn't change colour with a lighter texture). Expect to see some Fuerte Avocados at the very end of March as well.
For berries, current season Blueberries are arriving from Tasmania, with the Tassie variety typically sweeter and larger than what we would have seen at the start of the year. Strawberries are also coming in from southern Queensland and Victoria.
In terms of Citrus, Grapefruit will be available in both yellow and red varieties. If you're looking for Lemons, you'll find the Queensland varieties with green skins in stores. There is also plenty of Limes and Valencia Oranges available at the moment. The prices on citrus are good, as is the quality and supply.
Stone fruit doesn't cope well with cold wet conditions, and the start of 2022 has seen record-breaking levels of cold and wet. White and Yellow Nectarines and a few Peaches are still available, but we expect them to finish up early in the month.
Plums, have coped better with the adverse conditions and are in quite good supply. Sugar Plums, Candy Apple (a favourite!), and Mariposa (similar to a Blood Plum) will be available through March.
Other fruits available are Pineapples, Papaya, Keitt Mangoes, Grapes, Watermelon, and Rockmelon. Figs are still available in limited numbers, and Lychees have now finished.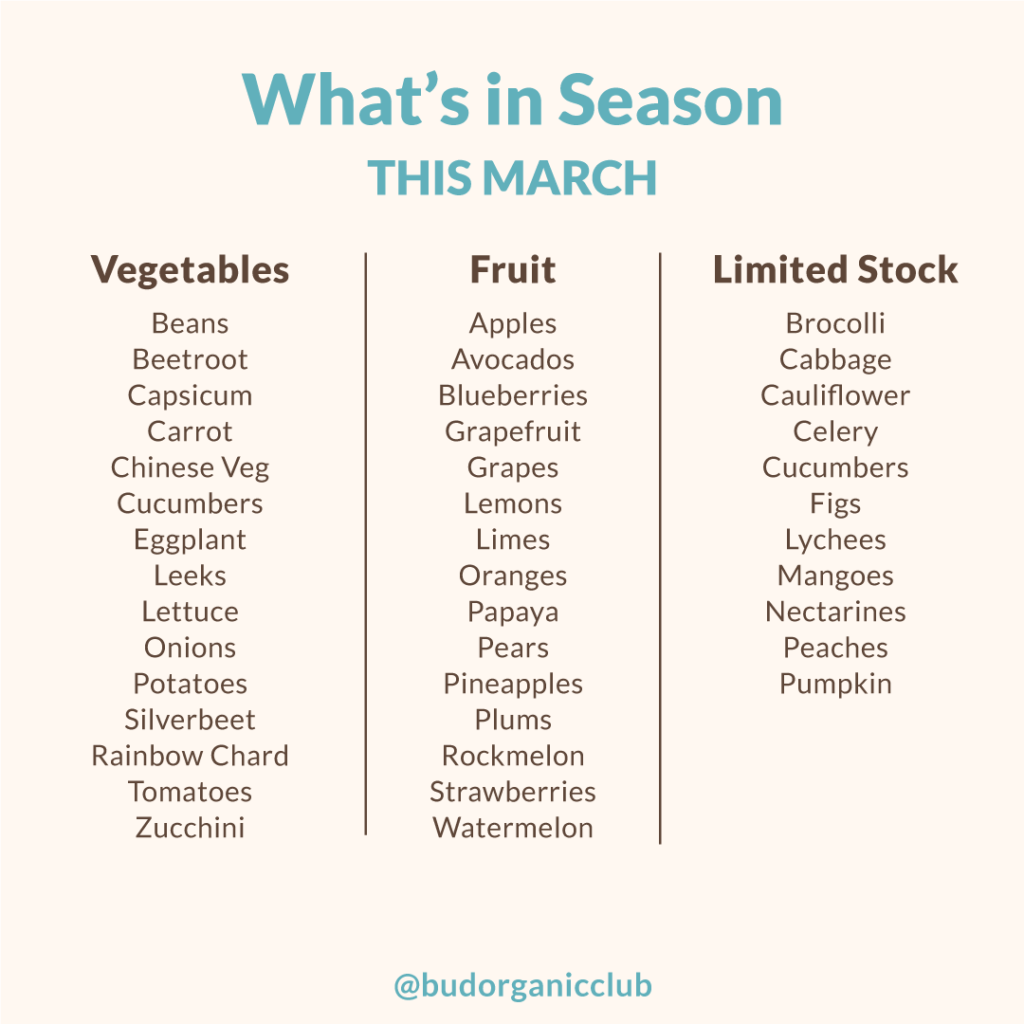 Vegetables
Vegetables have been impacted by the same weather events as the fruit, so availability this March is more the exception, rather than the rule.
That said, there is still plenty of veg around this month with Red and Green Capsicum, Carrots, Beetroot, and Beans all readily available.
All Chinese vegetable bunches are available, as well as Leeks and Cos Lettuce. Green Cucumbers are limited, but there are lots of the Lebanese variety available.
Silverbeet is still in abundance at the moment, as is Rainbow chard. There is also plenty of Eggplant, and prices have come down with the increase in availability.
We're also seeing lots of Brown and Red Onions from Victoria which are excellent quality, though supply does seem a bit shorter than normal.
For pasta or salads, there are lots and lots of beautiful Round and Roma Tomatoes, as well as Zucchini which are good in size and quality but more expensive than we would normally expect in Autumn.
Let's not forget the new season Potatoes coming in from Tasmania and Victoria too, with a good variety available.
For cruciferous veggies, it has been a slow start, Cabbages both Red and Green have been short this season, as has Cauliflower and Broccoli.
Celery is very, very short, the wet, cold conditions have created the perfect environment for black leaf rot, which has seen lots of growers plough their crops in. Jap or Kent Pumpkin is also in short supply with high prices.
Even with the challenges and the change of season this month, there is still a plentiful supply of fruit and veggies available, with something for everyone!
Remember to eat all of your colours, and enjoy the first month of Autumn.
The Team at United Organics

Image: Shutterstock