What's growing and slowing in March 2023?
Autumn is here, the weather is normalizing after a couple of very unseasonal years, it's a fantastic time of year for harvesting fruit and veggies, with lots to choose from at your local market.
Fruit
A good variety of red apples are available now, including a couple of heirloom varieties as well as the more traditional; Galas, Fuji, and Granny Smith. Everything is new season and great quality.
Pears have kicked off their season as well, with Williams, Clapps, Packham, and the brown-skinned Buerre Bosc. The Red skinned pears will start towards the end of the month. Nashi's both green and brown are on and will be with us, well into winter.
Avocados have two main varieties at this time of year. Hass (lumpy dark skin when ripe and creamy in texture) and Shepard (smooth green skin that doesn't change colour with a lighter texture). Expect to see some Fuerte's at the very end of March. There are plenty of avocados around this year, quality is up, and prices are down.
For berries, current season blueberries are arriving from Tasmania, with the Tassie variety typically sweeter and larger than what we would have seen at the start of the year. Strawberries are also coming in from southern Queensland and Daylesford Victoria.
Citrus is kicking off again with the cooler temperatures. Grapefruit will be available in both yellow and ruby varieties. Lemons are coming down from North Queensland, these are typically greener in colour than the yellow varieties we are used to. There are good stocks of both Meyer and Eureka lemons coming into the market. There are also plenty of limes and Valencia oranges available at the moment. Valencia's will be with us through autumn, with Navels coming on at the start of winter. The price of citrus is good, as is the quality and supply.
Stone fruit hasn't done well this year, it is a very light crop and a short season. White and yellow Nectarines have all but finished, there are still a few peaches around, but we expect them to finish up by the end of the month.
Plums, have coped better with the adverse conditions and are in quite good supply. Sugar Plums, Candy Apple, and Mariposa (similar to a Blood Plum) will be available through March.
Other fruits available are pineapples, papaya, grapes, watermelon and rockmelon. Figs are still available in limited numbers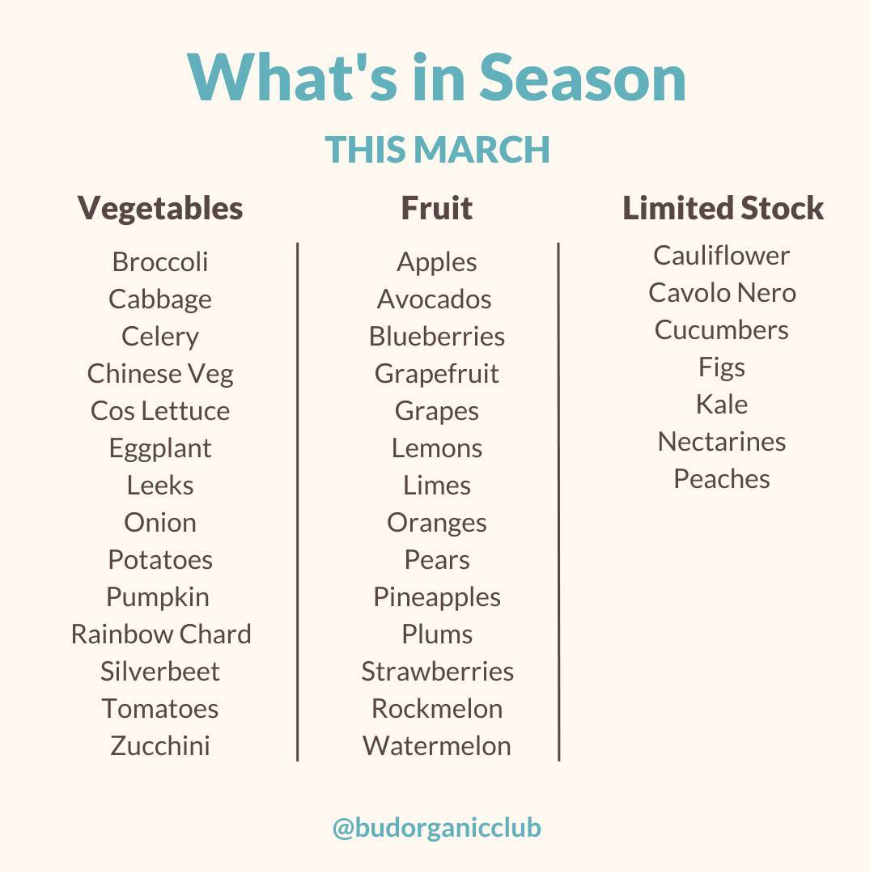 Vegetables
Are still on in some of the Queensland growing regions and have started in the southern states.
The earlier wet weather filled all of the dams and created very favorable conditions for this vegetable growing season.
All Chinese vegetable bunches are available, as well as leeks and cos lettuce. Green cucumbers are limited, but there are lots of Lebanese varieties available.
Silverbeet is still in abundance at the moment, as is rainbow chard. There is also plenty of eggplant, and prices have come down with the increase in availability.
Brown and red onions are on from Victoria quality is excellent, but supply like last year seems a little short. Green kale and cavolo nero are also short, one very large grower stopped supplying due to a shortage of farm workers. Bunched lines are a lot more labor-intensive, which is why they dropped these lines. A few other growers have stepped into the space, but the volume just isn't there yet.
Round and Roma tomatoes are coming out of several areas, supply is good and prices are lower than what we have seen. Zucchini was short this time last year but is in good supply this autumn and coming out of 4 different regions. Quality is up, prices are down.
New season potatoes have started from Tasmania, all the usual varieties Dutch, Sebago, Desiree, Pontiac, King Edward, and my favourite Kipfler. Victorian potatoes will start a little later this year, due to a delayed planting window with all of the wet weather.
Brassicas have kicked off with a bang, there are lots of cabbages both red and green, and a good supply of broccoli. Cauliflower is bucking the trend and has been in short supply and will probably stay that way until the Victorian season starts properly in a month or so.
Celery is in and in reasonable supply. Jap or Kent pumpkin is oversupplied in the market and prices are very low and quality excellent.
Autumn is a great time for vegetables, remember to eat all of your colours.
The Team at United Organics

Image: The Diggers Club