Autumn is here and it's a fantastic time of year for harvesting fruit and veggies, with lots to choose from at your local market.
Fruits
A good variety of red Apples are available now, including a couple of heirloom varieties (Abas and Akane).
For Avocadoes you'll see two varieties available: Hass (lumpy skin and creamy in texture) and Shepard (smooth green skin with a lighter texture). Both are delicious on toast or in a salad!
For berries, current season Blueberries are arriving from Tasmania, with the Tassie variety typically sweeter than the Queensland berries. Strawberries are also coming in from Victoria.
In terms of Citrus, Grapefruit will be available in both yellow and red varieties. If you're looking for Lemons, you'll find the Queensland varieties with green skins in stores. There is also plenty of Limes and Valencia Oranges available at the moment.
In the Stone fruit family, beautiful White and Yellow Nectarines are available this month.
Yellow Peaches are coming to an end. However, lots of Plum varieties are still available – Sugar Plums, Candy Apple (a favourite!), and Mariposa (similar to a Blood Plum).
Other fruits with plenty of supply at the moment are Pineapples, Keitt Mangoes, Grapes, Watermelon and Rockmelon.
Figs are still available in limited numbers, whereas Lychees have finished now.
If you enjoy pears, Nashi are available and are crunchy and juicy. More Pear varieties are now available too such as Bosc Pears which are usually sweet and juicy.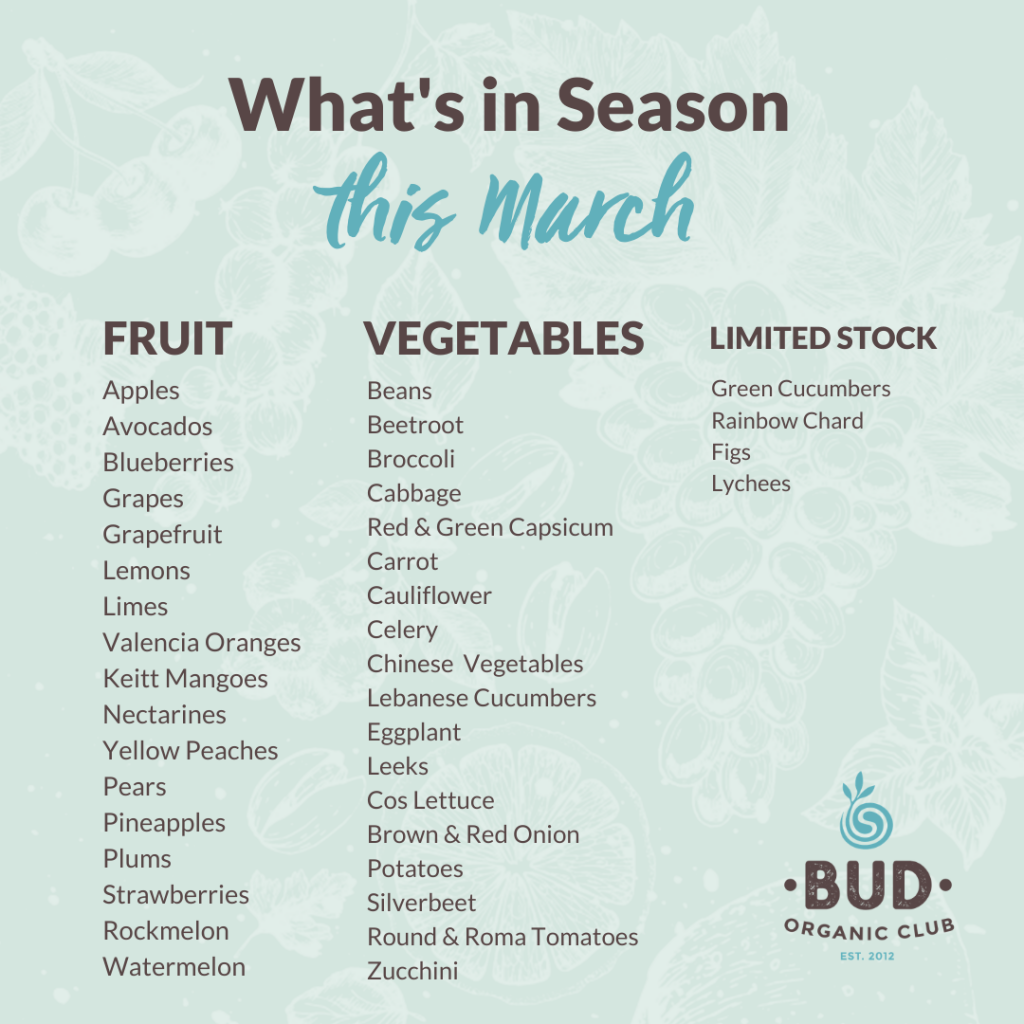 Vegetables
There is plenty of veg available this month with Red and Green Capsicum, Carrots and Beans all readily available.
For green veg, Celery is great quality at the moment with deep green leaves and crunchy, juicy stalks. All Chinese vegetable bunches are available, as well as lots of Leeks and Cos Lettuce. Green Cucumbers are limited, but there are lots of the Lebanese variety available.
Silverbeet is still in abundance at the moment, however Rainbow chard are in limited numbers. There is also plenty of Eggplant, and prices have come down with the increase in availability.
We're also seeing lots of Brown and Red Onions from Victoria which are excellent quality, as well as plenty of Pumpkin, which is well-priced.
For pastas or salads, there are lots and lots of beautiful Round and Roma Tomatoes for a few weeks, as well as Zucchini whichare good in size and quality.
Let's not forget the new season Potatoes coming in from Tasmania and Victoria, with a good variety available.
For cruciferous veggies, there are plenty of Beetroot and Cabbages in season, plus large Cauliflower and Broccoli which are perfect for roasting.
With the change in season this month, there is a plentiful supply of fruit and veggies available, with something for everyone!
The Team at United Organics