There's plenty of fresh, organic in season fruit and veg this month!
Fruits
Winter fruits are all about the basics: Apples, Pears and Citrus. Apples are in full swing with multiple regions producing almost every variety – it would be difficult to buy a bad apple right now! In-season apples are coming from Stanthorpe, South Australia and Tasmania. Gala's, Fuji and Pink Lady are the main red varieties, while Granny Smiths are still a little short but will get more plentiful as the month of May progresses.
Pears are plentiful with Packham, Williams, Red Sensation, Ya, Red Corella and Nashi varieties all available. For salads, stick to the firmer varieties. Pear, Rocket, Parmesan, Walnut with a Balsamic glaze is a wicked cooler weather salad that is guaranteed to please.
There are plenty of Limes available and the growers really need to move them, so grab some next time you see them! Oranges are transitioning from Valencia's to Navels and both varieties are predicted to be available well into June.
Mandarins have been a little late this year but expect them to be bountiful mid-month. Blood or Cara Cara Oranges may make an appearance in the last week of May, as well as Tangelo's. There are plenty of Meyer Lemons from North Qld, and Eurekas will come on towards the end of the month. Yellow and Ruby Grapefruit are around but in lesser quantities than previous years.
Notable mentions are the Queensland grown Red Papaya and Strawberries. Papaya is flushing now however Strawberries are off to a slower start this year due to all the rain but should be on in good numbers towards the end of the month. Good quality Blueberries are coming out of the Adelaide Hills. Pineapple, Persimmons and Dragon Fruit are in reasonable supply.
Hass Avocadoes have started early this year, with early-season varieties such as Shepards, Fuertes and Sharwells currently available but these will be finishing up soon. Kiwi Fruit from the Central Coast of NSW will start early May so keep an eye out for it.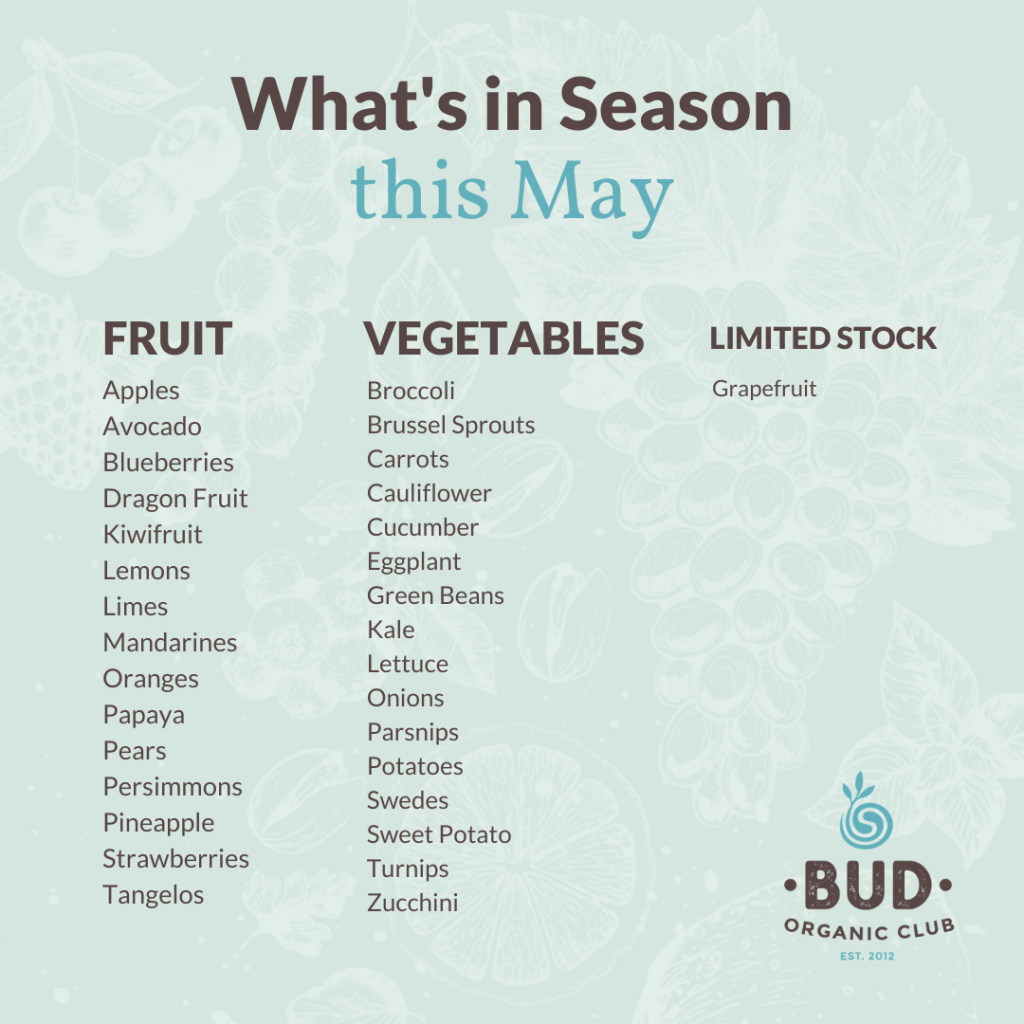 Vegetables
Winter is when we are really spoilt for choice with our veges! The most exciting thing to happen this month is Brussel Sprouts. If you have bad memories of these as a child, you have to give them another go – just don't boil them! They have really made a comeback and are finally getting the love they deserve. Note that they have a very short season, so get in quick and enjoy while you can.
Carrots, Turnips, Swedes and Parsnips are all coming on strong this month, as well as lots of Potatoes, with many of varieties from multiple regions to enjoy. Most other vegetables are in abundance, with lots of brassicas such as Kale, Broccoli and Cauliflower. Sweet Potato is well supplied as are Onions, Green Beans. Eggplant, Zucchini and Cucumbers which are available in good numbers and good quality.
Salad Mixes and Lettuces are available from multiple regions, with lots of good quality varieties around and at good prices.
Enjoy the cooler weather and remember to eat all of your colours.
The Team at United Organics