What's Growing and What's Slowing this December
Historically, this time of year is always a bit tricky to negotiate when it comes to organic fruit and veg.
December is a transition time between when Queensland growers finish up, and when Southern growers start up. On top of that, this year has experienced some inclement weather which resulted in some Queensland growers finishing up earlier than expected, and also delaying Victorian growers in the process. Needless to say, the quality of the produce also suffered during this time.

On the upside, it appears we are over the worst of it. Victorian growers are in full swing with Broccoli, Cauliflower (finally!), Cabbages, Chinese Veg, Tomatoes and Strawberries. Growers in North Queensland are producing some lovely Red Capsicum and both Japanese and Butternut Pumpkin. Expect prices to come down as supply becomes steady.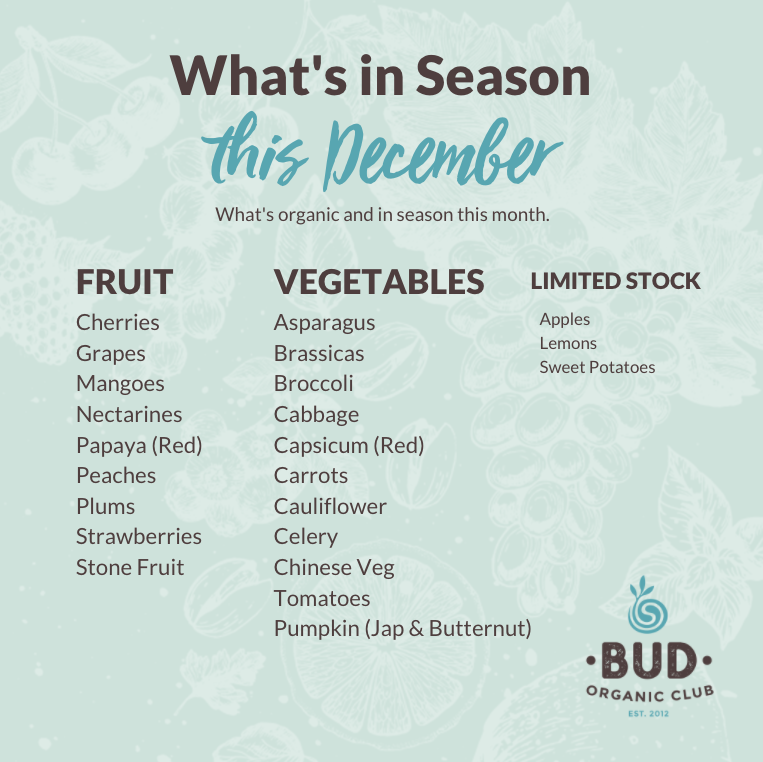 South Australia will be joining us soon with their Celery, and our Tasmanian friends will be supplying Carrots and Brassicas ready for the festive season. There is also lots of Asparagus coming out of Victoria which will make a nice addition to the Christmas table.

Still in limited supply are Sweet Potatoes and Lemons, which has driven the price up. The quality of the Lemons provided are not the usual standards, but we hope to see some more in January.
Cherries have started and Mangoes are in abundance – as are Nectarines and Peaches. There is also plenty of Red Papaya from North Qld. Plums and Grapes will start early in the month. Apples are still in good supply, but they are coming out of storage. New season Apples will start late January.
This time of year is all about the Tropicals and Stone Fruit. It has been a good season so go hard and enjoy the taste of summer!
Remember to eat all of your colours and have a great Christmas.
The Team at United Organics